Barbless Wide Gape Pellet Hooks to Nylon are perfect for commercial fisheries when using soft pellet. This hook is wide in the gape and long in the point to improve the hooking properties and is forged for extra strength.
Hook Plate System
New Concept ultimately convenient 6" (15cm) – 8 individual pole hooks to nylon.  Stored flat and straight under slight tension without kinks in the mono so they present perfectly and fish perfectly. Precise whipping knots and consistent loops these new concept pole hooks to nylon can be used straight from the flat plates or stored in the matching Hook Book or Hook Box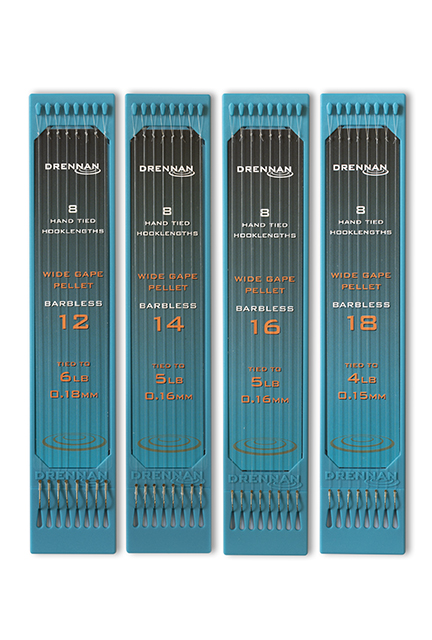 Hook Plate System – Precision-tied Hooklengths!
The Range:
Size 12 to 6lb (0.18mm)
Size 14 to 5lb (0.16mm)
Size 16 to 5lb (0.16mm)
Size 18 to 4lb (0.15mm)
Features:
Bronze
Wide crystal bend
Medium shank
Forged
Chemically etched long needle point