The versatile Carp 6 is the second model in the popular Drennan Carp series to sport specially banded tips.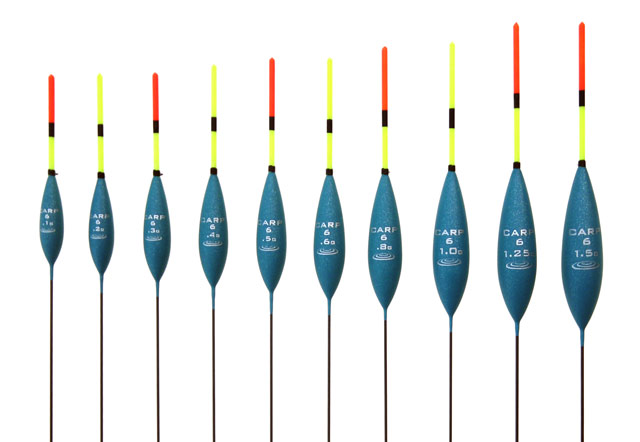 The banded tip aids bite detection and allows you to spot lift bites easily. A choice of red-black-yellow or yellow-black-yellow banded tips combined with our extra bright Glow Tip paint finish ensures these floats are highly visible even in varied light conditions.
It has a fairly slim, body down profile matched with a durable carbon stem and a 1.5mm hollow antenna. This ensures that it is ideal for a multitde of baits and tactics, from maggots and worms to pellets and even paste fishing.
As with the rest of the Carp family, it features a super tough acrylic paint finish and our unique black stainless steel spring eyes.
A wide range of sizes ensures the Carp 6 will cope with shallow and deep venues. It is also a great choice for maintaining good presentation where wind is an issue.
Available in 10 sizes from 0.1g right up to 1.5g.
The Range:
0.1g
0.2g
0.3g
0.4g
0.5g
0.6g
0.8g
1.0g
1.25g
1.5g
Features:
Highly buoyant balsa body
Super-tough acrylic paint finish
Black stainless steel spring eye
Hollow 1.5mm tip
Special banded tips for improved bite detection
Ultra bright Glow Tips
Tips strengthened with a spigot
0.1g to 1g floats have a 0.8mm carbon stem
1.25g and 1.5g floats have a 0.9mm carbon stem
Concentric construction
Hand built and assembled in Drennan's own factories
10 sizes