The AS5 'pencil' is the latest addition to the Alan Scotthorne signature range of pole floats.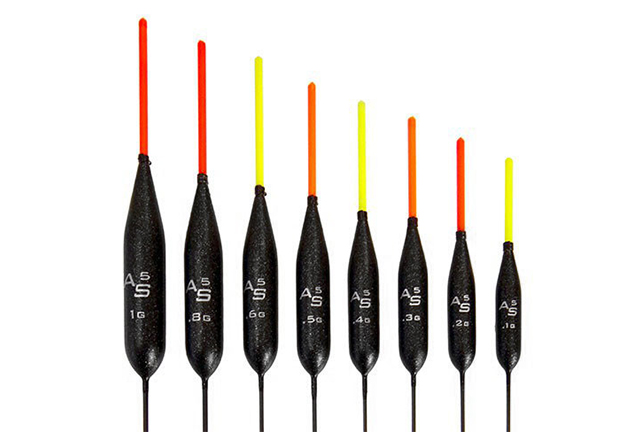 This slim shape first became popular for roach and silverfish, as it offers very little resistance to shy biting fish. Many anglers now appreciate the benefits of this design for catching carp, F1s and quality silverfish on commercial fisheries. The AS5 can be used with practically any hook bait from pellets and maggots to punched bread and sweetcorn.
The slim profile of the AS5 offers great bite detection and cuts through the water really cleanly on the strike. Importantly, this float is also extremely strong and durable with a top-grade balsa body protected by a special acrylic 'shell' that is incredibly tough and hardwearing.
Each float has a medium length carbon stem securely bonded into the body, plus a 1.5mm hollow Glow Tip reinforced with a fibreglass spigot.
The blackened stainless steel spring eye is lighter than most others on the market and also double wound to avoid the chances of the line getting trapped or pinched.
The AS5 is available in eight sizes, from 0.1g right up to 1g, making it a really versatile float that will cope with a wide variety venues.
Like all Drennan pole floats, the AS5 is hand built and assembled in our own factories.
The Range:
0.1g
0.2g
0.3g
0.4g
0.5g
0.6g
0.8g
1g
Features:
Designed in conjunction with five times World Champion Alan Scotthorne
Highly buoyant balsa body
Super-tough acrylic paint finish
Black stainless steel spring eye
Durable carbon stem 1.5mm hollow Glow Tip
Red, orange and yellow tips
Tips strengthened with a spigot
Concentric construction
Built and hand assembled in Drennan's own factories