Ian Young is now the 4th member of Drennan Oxford to make it through to the final.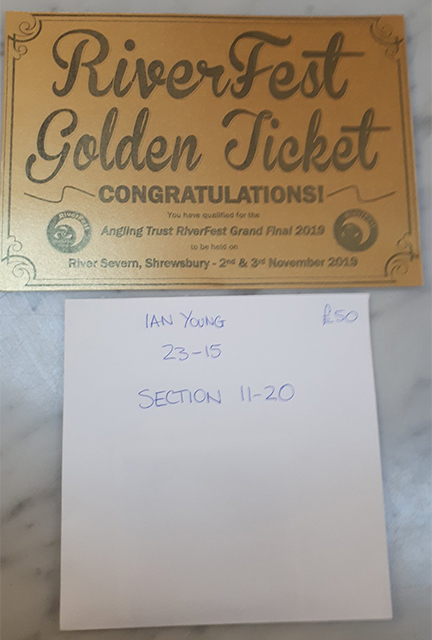 Ian's golden ticket and section money
4th Drennan Oxford angler, Ian Young, through to Riverfest final on the latest qualifier on the Thames at Child Beale. It was close to 5 on the same match when Drennan Oxford captain Mick Denton drew on the noted bream area and weighed in 172lb of bream only to come 2nd in zone as well as the match. Andrew Cranston managed an incredible 194lb and also qualified.
Report from Ian…
I drew peg 19 in the second field (two pegs above where I fished two years ago and had 16lb) which is a proper walk even from the closer car park and through the "Nature walk" and over a really dodgy bridge. The swim plumbed up nicely with seven foot from 11.5m but it was weedy so I fished at 13m being no deeper at 14.5m and the wind initially was gusty. All the rigs where on top three kits of my Acolyte Pro pole.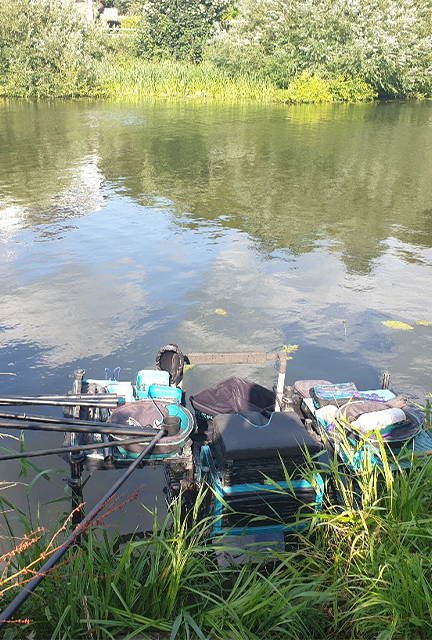 The Thames at Child Beale has some fantastic looking pegs 
I set up four roach rigs on 0.12 main line and No.6 elastic, 2gr AS pencil with a bulk 12" from the hook and two or three No.8s 6" below it and a Drennan 16 Carbon Match to 6" of .12 Drennan Supplex Fluorocarbon. 1.5g AS7 with a bulk 18" from the hook and two No.8s 6" apart and a size 16 Drennan Fine Match to 0.105 Supplex Fluorocabon then a 1g AS7 and a 0.6g AS7 which had a spread bulk but both with size 18 Fine Match to 0.9 Supplex Fluorocarbon.
Two chopped worm rigs firstly a 1.5g with thick tip 0.18 main line 0.15 Supplex Fluorocarbon hook length to a size 14 B560 the other one was a 1.5g AS8 float on 0.16 line with a 16 B560 to 0.13 Supplex Fluorocarbon.
On the whistle I balled in eight balls of groundbait with hardly any lose offerings in it and then cupped four rich ones in with caster, hemp and dead pinkies. Two bait droppers of chopped lobs, caster and red maggot deposited at 13m but at 45 degrees downstream. I started over on the heavy rig and a tail of a lobby and on the second put I had a 10oz then a 6oz Perch and then nothing. I tried the lighter rig and had two bites and one 4oz Perch to show so I changed to the Groundbait line which I stayed on for the rest of the day.
I caught on single caster or double red maggot initially on the 2g rig and then on the 1.5g to the end of the match. I lose fed caster and hemp as Bleak weren't a problem and I caught well ending up with 104 fish, nearly all Roach, just a couple of 10oz Skimmers and odd Dace for 23lb 15oz. This won my zone and secured me with a Golden ticket to the final! It was just meant to be a practice match really for next weeks first round of the Winter League.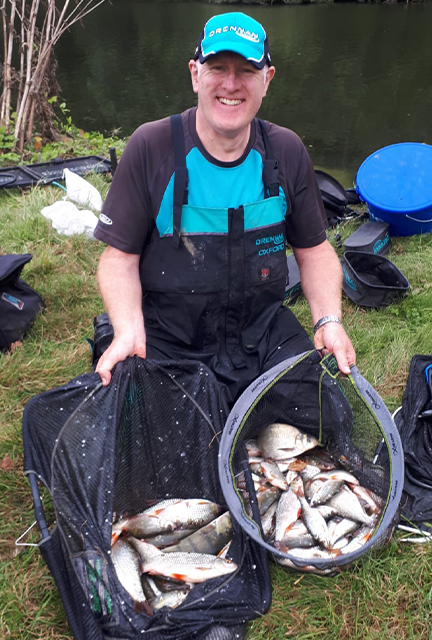 Ian Young with his impressive bag of Perch, Skimmers and Roach weighing 23lb 15oz