Alan Scotthorne reflects on an outstanding team performance which saw his Drennan Barnley Blacks squad win last weekend's Angling Trust Winter League Final.

What a great result for my Drennan Barnsley Blacks team on the Winter League Final! We had put in a good amount of practice on both the Fenland Drains and at Decoy Lakes. The lakes were really difficult to formulate a plan on with so many different pools to contend with, so this was almost left to each angler to sort out their own route on the day. The drains were again difficult, but we had a loose plan in place with each angler making sure they had fished a number of sessions to help familiarise themselves with each section.
For me I arrived early on Friday and had a run round all the sections. Not having fished the drains last year I wanted to know exactly where I was going once we had drawn our pegs. Also I had not fished the last two sections at Benwick and Factory Bank, so I had at least seen these pegs if I found myself in one of these sections.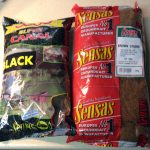 For the sections at March, bread punch was going to be a good starting ploy down the middle and then the main catching area would be two lines with squatts over groundbait at a depth of around 80cm at 11 metres with very light rigs. Groundbait was a simple mix of a bag of Sensas Canal Black to three pints of brown crumb. This was mixed on the damp side so little came off it in the flow. To this we added a few squatts and a pint of hemp, but most important was to feed very few loose squatts over the top. Loose feeding more than 10 at a time seemed to kill the peg completely. I think this was probably due to the pressure that the venue had received over the run up to the match.
B Section through the allotments was always going to be the hardest area and here we felt chopped worms would play a part, scratching for every bite. Matt Godfrey is a master of eking out fish from all over a swim and his 2nd in this section was testament to this. By the way, Simon Fields' 7kg+ plus was also good enough to win A Section and this has capped off a great string of results on the drains for him.
C Section was either side of the bypass and had a good number of skimmers in areas. Once the punch line had petered out down the middle, this was to be refed with our groundbait mix for skimmers with pinkies being the best bait for these real bonus fish. A 6th in the 17-man section here from Will Freeman kept us in the hunt with the dodgy 20 Foot Drain results to come…
I think this could have been a real stumbling block, but Dave brooks did what he does best, catching small fish fast all day. He felt the bigger stamp fish on the other side of the bridge were always going to beat him, yet when the scales arrived his 6kg+ was in fact a section win. I think this again was exceptional with Dave been a master of fishing fast!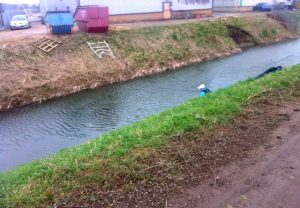 I must admit I was not so confident that I was going to get a good result when I arrived at my peg on the Factory Bank. It can only be described as a ditch, six or seven metres wide and clear! It just didn't look inviting, coupled with a strong downstream wind pushing the flow, which would make presentation difficult. I was however assured there were fish to catch, but I cannot remember ever getting just five sections of my Acolyte pole out of my holdall on any other match I have ever fished!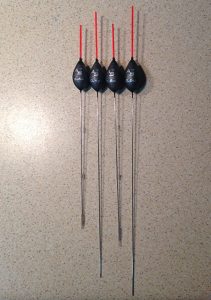 I set up six rigs, two with cut-down Drennan AS7 floats in 0.4g and 0.6g sizes, three squatt rigs in 0.05g, 0.1g and 0.2g sizes, plus a chopped worm rig. I was soon ready.
Starting on the choppy short I caught a few small perch but I was soon out on my four-section swim with squatts over groundbait. Loose feeding very regularly and keeping the tiny squatts quite tight I started to catch a few perch and then the roach showed up.
I caught for maybe the first 50 minutes on the put-down 0.4g AS7 float with just an Olivette and a single No9 dropper with a single squatt on the hook, but then started to miss bites. A change to my lightest 0.05g rig with just four No13 shots strung out got me catching again but in fits and starts.
Once I refed the swim with groundbait I started to catch well again and this was to be the pattern for the day. Topping up regularly with the Sensas Super Canal Black and brown crumb mix kept the bites coming. A large 14lb pike slowed me down in the last hour and really interfered with my rhythm which I felt would be costly.
The scales had started at the top end of the 17-peg section and 4.41kg was the best weight when they eventually got to me. Thankfully my 4.75kg was enough to win the section and I was extremely relieved to score maximum points for the team.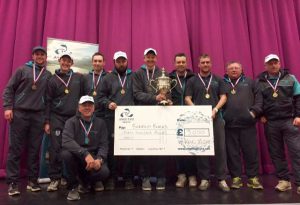 Back at the headquarters, as all the results started to come back I knew we would be close. Dropping just six points on the drains had set us up really nicely and, although we had a second to last at Decoy Lakes, we could carry that result as we had still done enough to win!
It was great to be on the stage as winners in this 34-team Final. Well done to Starlets on 2nd place and also a great result for Drennan Oxford in 3rd. This is not an easy match to put together, so I must also say a big well done to the Angling Trust on a well-run match.