Leading the way was Norfolk-based all-rounder Phil Spinks, who finally bagged his first Fenland 'three' after countless near misses in recent weeks.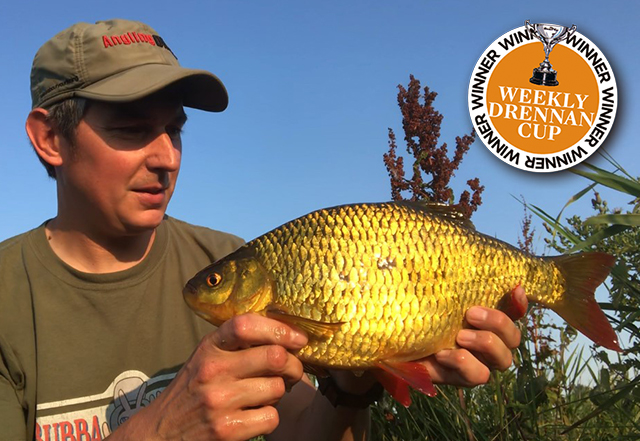 Phil told Angling Times: "Over the past few weeks I've banked 24 rudd over 2lb, including fish weighing 2lb 13oz, 2lb 14oz and 2lb 15oz. One evening session alone produced nine 'twos', including the 2lb 15oz fish. So, to say I was over the moon when I finally caught my first Fen three-pounder is an understatement. When the scales settled on 3lb 2oz I was absolutely delighted, and it made all the hard work worthwhile."
While many species have proved hard to catch during the current hot and muggy weather conditions, rudd have shown no such reluctance to feed on both rivers and drains. According to Phil, calm evenings often prove to be the best time to catch a specimen-sized rudd, although he was at pains to point out that tracking them down can be hard work.
"Big rudd are one of the few fish that seem to love the hot sunny weather, so over the last couple of weeks I've walked many miles along different Fenland drains and rivers looking for a specimen, battling with stinging nettles, high temperatures and all manner of biting bugs along the way."
Many anglers have been using a boat to track down their quarry, but Phil found a lot of his success fishing from the bank and underlined how important it is to adopt a mobile approach: "It's a style of fishing I really enjoy. Sometimes I fish from the boat, while at other times a more stealthy approach is needed from the bank. Having very little kit and keeping mobile is the key. Nearly all my recent fish – in fact 23 out of the 24 bigger rudd – have been caught on floating breadcrust fished alongside a float, with a 4lb mainline straight through to a size 10 hook."
"Location is everything," Phil added. "Big fish are very greedy fish and once you've found them they can soon be persuaded to take floating crust. I hate to think how many miles I've driven recently on my days off work, and I've put the legwork in too. Effort definitely equals reward, but it's all been worth it in the end."