Alan Scotthorne runs through his latest two-day festival at Lindholme Lakes.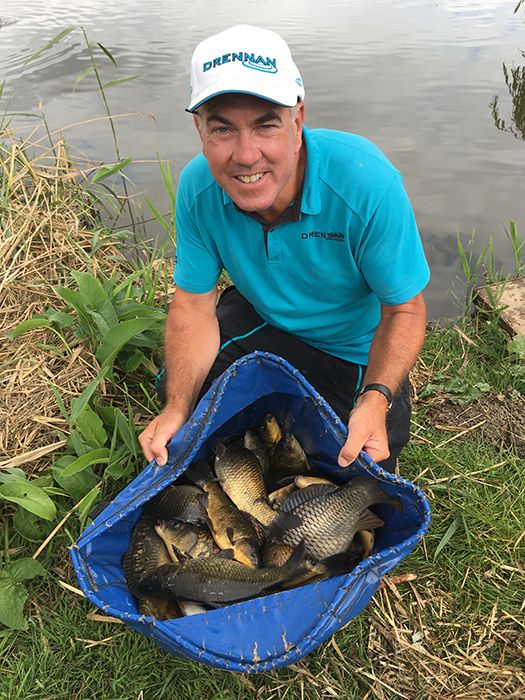 I have been fishing regular matches at Drennan Lindholme Lakes, something that I don't usually have the luxury of, due to other commitments. With no league matches on the canal at Thorne this year, I decided to fish the Lindholme Winter League and also the Tuesday Feeder League run by Nick Speed, plus a few midweek matches. Currently, I am leading the Feeder League with around 300lb after six matches, but this could all change with six more matches to go.
Recently, I fished the two-day Matrix Natural Baits Festival run on the famous Bonsai Lake. This was a pole only competition with weight determining the top seven overall. It was also split into two sections, the narrower part of the lake and the wider parts.
On the first match, I drew on the wider section peg 66 and with 40mph gusts due that day, I would struggle to fish, never mind catch anything. I just couldn't do what I wanted and had to fish with too bigger floats just to have any chance of getting a bite in the worst conditions imaginable. My 12lb was not the start I wanted and I would need to fish well on the second day if I wanted to make the frame.
Sunday was a much better day weather wise and with a decent draw (peg 20) on the narrows was just what I needed if I was to make up on the lost ground with 46lb winning the first-day match.
From experience and during the run-up to the match, I knew that light floats where very important and also loose feeding maggots were the key to catching a good weight. Neither of these were possible on the first day due to the wind. Plumbing a line at 14m across to the island I found about 3ft of water and set up a 0.01g SF2 float with strung out No.12 shot. This would give me a good chance to hook every bite from the shy biting F1s and silvers. If you have not tried these floats yet I would say give them a go, these are the best I have ever used for winter commercials and just fish sublimely. My hook choice is also vital and I have the utmost confidence in the Silverfish Maggot barbless hooks. The shape of this hook must be the ultimate shape as little to nothing comes off, even in a size 20 which is very fine for the F1s. Due to using such light hooks, I opted to fish 0.095 Supplex Fluorocarbon for my hooklength material. Elastic is also kept to a minimum in the shape of lightly set Aqua Bungee eliminated hook pulls.
Another key factor is the amount of line on the bottom. I have found even when fishing live maggots you need to fish at exactly dead depth. If you have ever watched F1s feed near the surface of a lake they suck in a bait and don't move an inch. So you can see why everything needs to be just right just to detect a bite during the winter months.
On this peg, there is an aerator in the middle to my right so I set up a slightly heavier 0.02g SF2 rig, plus another 0.01g rig for the 5m line where I could easily feed maggots by hand and an edge rig in the same size.
Armed with the knowledge that the day before most fish where caught under the aerator, I started here and I really struggled to catch just feeding around ten maggots through a pole mounted pot, bites were slow to materialize. Even though I loose fed maggots from the start across and I had not had a single bite on that line. With just six F1s in the first two hours, it didn't look too promising to catch anymore from under the aerator.
A quick look on the five-meter line and also down the edge resulted in nothing even though I had kept trickling maggots in on all these lines throughout the match. It was just not happening. Sometimes fish are slow to respond and with a slight frost on the morning this had knocked them on the head for the first part of the match. It's all too easy to lose confidence and cut down on this regular feeding pattern but with experience, it's important to keep feeding and be confident you will eventually begin to pick up a few fish.
After two and a quarter hours, I shipped across and had a bite on the drop from an ide of about a pound. From then on, it was a fish a drop. Small F1s, skimmers, roach and ide all coming to the net and I caught well to the end of the match even adding a couple of F1s from the margin swim. What was apparent was I hardly missed a bite long on the light 0.01g rig and I am sure it was just the persistence of keeping maggots regularly fed on all the lines that eventually triggered the fish to feed. I got through three pints of maggots over the five hours and even added a small pot to the pole for the long line that helped to group the loose maggots. But, I still kept feeding with the catapult also.
This was great winter fishing and I finished with over 15lb of silvers, plus 38lb of F1s for a 53lb total. Enough for me to sneak in fifth overall with a total weight of 65lb and a few quid for my efforts over the two days. The match was won by Craig Butterfield with 75lb who fished two great matches so well done to him!