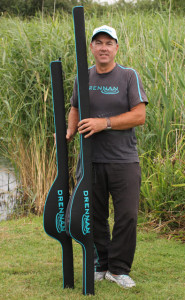 Slimline Single Rod Hard Cases are a new addition to the Drennan luggage family.
They are made from a hard­wearing, semi-rigid material with handy pockets for quivertip and spare spool storage. You also get a useful set of Neoprene rod bands to help secure everything together.
There are two sizes available – Short (160cm) and Long (196cm) – which will safely house most two and three-piece rods.
Usefully, you can also attach a Slimline Single Rod Hard Case to the out­side of the Drennan 4-6 Tube Full Zip Rod Holdall and 6-8 Tube Rod Holdall for carrying convenience.