Laurence Hanger likes the mysterious fish in our waterways and held a target of beating his current mullet and eel PB's this year. Over to Laurence…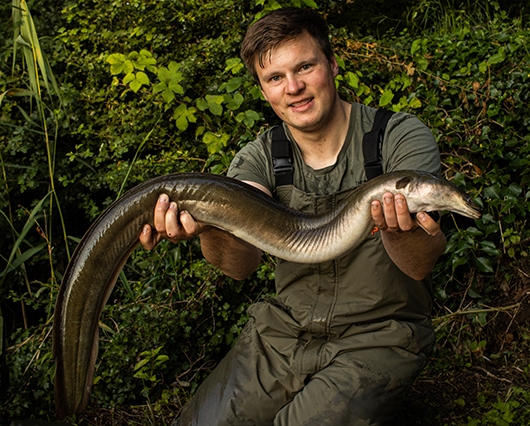 'I've been spending a bit of time recently on a large southern stillwater, to try and track down a fish that has eluded me for years, a 5lb eel. Arriving at the venue half hour before sun down, plenty of time to get some groundbait over a couple of spots and rods to the ready, I decided on a new swim with dense marginal vegetation, overhangs, and much deeper water to where I had been previously fishing. I could just imagine it being the sort of area to hold a good eel or two.
Waiting for the light to drop just enough to see where I was casting, but too dark to be pestered by the small perch, I fished a couple rod lengths out with lob worm hookbait over a bed of dead maggot and liquidised mackerel. I had my first sign of interest at 11:30pm. Classic eel bites-couple of bleeps where they pull the bobbin up so far, then feel the resistance and drop the bait. Then just after midnight I had a proper take, connecting with and landing this new personal of 5.7lb!