Paul Scowen is no stranger when it comes to fishing for eels, and this certainly served him well on a recent outing as he banked this lovely 5lb 14oz specimen.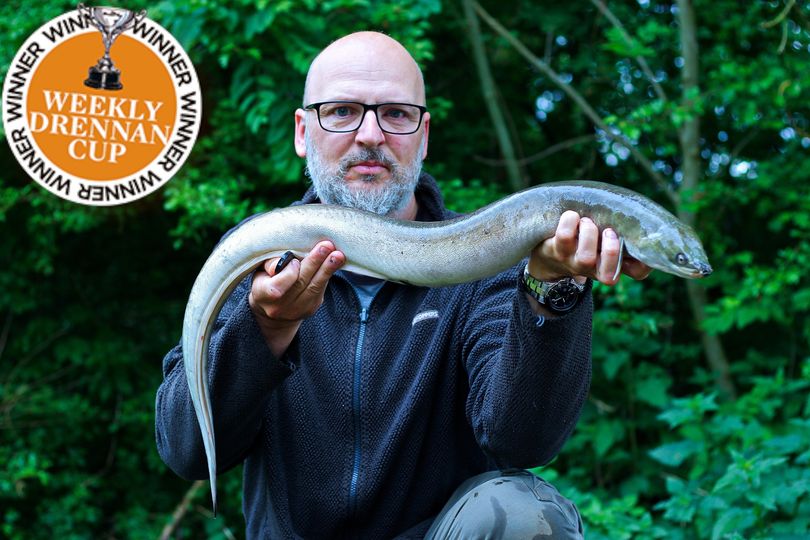 He told us "I've fished for eels for decades and my results over the years have shown that there's a really productive window lasting a fortnight when I can expect a bite most nights, even on waters that are hard going for the rest of the year. In my experience, the middle to the end of May is the most reliable time to target these notoriously challenging fish, and a few weeks ago I managed this 5lb 14oz specimen during exactly that period.
The venue I'm targeting is a large gravel pit, primarily run as a carp syndicate. I've had good results from there in the past, with four fish over the five-pound mark, and I know of a significantly larger fish caught on a boilie several years ago. Until mid-May, I'd been targeting bream on a different venue, but with the key time approaching, I ensured I was in the right place at the right time and had a three-night session planned.
After feeding a noxious mix of worm castings, mashed sardines, tuna, dead maggots and chopped worms, by the third night I'd banked eels up to 4lb 12oz, plus a couple of three-pounders.
My faith in that magic fortnight was already being proved well-founded, and on my final night the right-hand buzzer gave a one-tone, screaming take and I lifted into what was obviously a better fish.
The weed is already four feet deep across most of the lake, so I was using heavy tackle, with 3lb test curve carp rods and 18lb line. The eel was soon being pulled over the rim of my 50-inch catfish net and I scooped it up at the first attempt.
It wasn't immediately clear how big the fish was, as it wasn't especially long, but as soon as I had her on the unhooking mat I could see the impressive girth. It was thicker than my wrist and had a significantly bigger mouth than any other eel I'd had from the venue before. I put her in a retainer sling while the light improved enough to take a few photos, and when I took her out it was evident she had been gorging on my bait, as there were hundreds of dead maggots and worm sections in the sling!
Whilst the last two weeks of May have now just passed, that brilliant session proved that making a note of exactly when you've had success throughout the calendar can pay off on future trips. My advice would be, if you have your sights set on catching a big eel, make sure to be on the banks during that highly productive period.
I'd also add that, in order to safeguard the fish's welfare, you should use a rig that will lip-hook them. I used worm sections as my hookbait – a typical offering for the species – but the way I fished them was slightly unconventional and differs from the old textbook advice that says use a free running rig. These can lead to deep hooking, so instead I use a semi fixed rig with a 2oz lead, and a short braided hooklink around six inches long. This acts as a bolt rig, and hooks the fish when it moves off and feels the resistance of the lead. More often than not, the eels are hooked squarely in the bottom lip, and I'd strongly encourage any eel anglers to use a similar set-up.
For full details on how I set it up, check out my YouTube channel, 'Paul Scowen', where I have a video explaining how I do it."
Well done Paul!