A colossal 19lb 11oz barbel has topped another fantastic week for the species which saw dozens of specimens banked from multiple rivers across the country.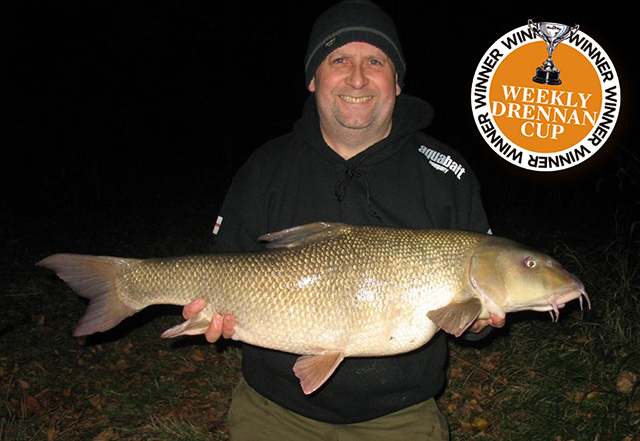 The record-threatening fish fell to Essex-based angler Paul Faint which took a liking to a pair of hair-rigged 10mm pellets fished on an undisclosed stretch of the River Thames.
Speaking to Angling Times, Paul described the effort it took to catch such a specimen from a very difficult patch of the waterway.
He said: "Despite it being cold I decided to try an overnight session on a stretch of the Thames that is notoriously hard for barbel, but with a gut feeling that there could be a chance of a huge fish.
"I've done about 20 overnighters in the past two years on this stretch for only one 8lb barbel, but I just knew there was bigger fish in it."
Paul, who receives a third weekly Drennan Cup award for his catch, fed four pints of hemp and a pint of 4mm pellets to a line of clean gravel in the middle of the river, knowing that this would be his best move for a bite.
It was a decision that proved fruitful roughly three hours into his session when something huge tore off with his bait.
"Striking at the bite the fish tore off 20 yards of line under an overhanging tree to which I slowly pumped to try and retrieve something," Paul added.
"After a 10-minute battle the barbel crossed the net cord and after it was carefully weighed and witnessed by a friend, I rested it and returned it to the Thames.
"This was the only bite of the night which was bitterly cold but well worth the effort."