Drennan Bordon's Brett Cooper reports back from his potential record-breaking catch in the Sensas Southern Canal League on the Oxford Canal.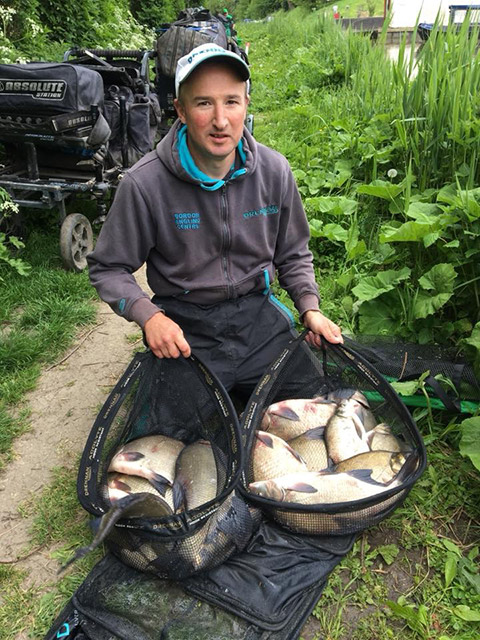 I was looking forward to this round as there was a chance or drawing in the boats at Rock of Gibraltar. I ended up last in the queue to draw, but luck was on my side and drew peg 14. I thought was at the wrong end as the majority of the bream were caught from the other end during the last round. I decided to still be positive and fed two lines at 11m. left and right. One with Senses Lake/Cloud with chopped worm and dead maggot added to the mix and the other with just chop worm and caster. I also fed a punch line at 5m and fished this line at the start to allow the 11m lines to settle.
With no bites after 15 minutes, I took a look on my 11m lines. With a section of worm, I had a look on my chop worm line and had a small skimmer and a roach straight away. I moved to the groundbait line and almost immediately foul-hooked a bream which came off. By this time Dave to my right had landed five skimmers.
I quickly changed to a finer set up with an AS7 pole float and 0.10 Supplex Fluorocarbon hooklength and a size 18 baited with double dead maggot. What a change that made! I went onto hit every bite on the two lines. This lasted for 3 hours before it went dead, so decided it was time to go over and fish tight to the boats which was 14.5m and a dolly butt on my Acolyte Pro Pole. On this line, I also cupped in chopped worm and caster and fished with an AS4 float with worm tail on a 16 B560 in 2 ft of water.
For 20 minutes I thought there was no fish there until I saw a silt cloud appear and the float buried with a 3lb bream. I managed to steadily catch bream on this line right until the end of the match.
I'm no good at estimating what I've caught and thought that I possibly had 30lb in my net. So I was over the moon when the scales signalled 62lb! My biggest canal weight by a country mile and a comfortable match win!