The biggest tench of the season accolade has been smashed once again with the capture of this monumental 13lb 1oz specimen.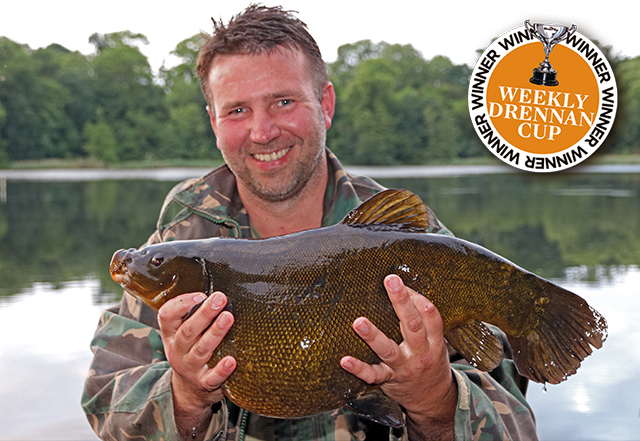 The plump tinca was banked by building contractor Nick Proctor from a Midlands Stillwater and smashed his old personal best for the species by more than four pounds.
The story behind the phenomenal catch optimised the challenge specimen angler's face in catching a monster tench from weed-filled waters, as Nick had to use a boat to ensure his baits were presented effectively amongst beds of intense weed growth.
Speaking to Angling Times, the 39-year-old described his session to remember.
He said: "I arrived at the venue at Saturday tea time and fished right through to Thursday morning – only having a day off on the Monday.
"In this time I banked 14 tench and a 12lb 5oz bream – but the main highlight by far was the 13lb 1oz tench that I hooked on Sunday evening.
"It's a 40-mile round-trip to the venue for me, and since the second week of April I'd been down there in the boat raking and baiting a swim 80 yards from the bank with Vitalin, sweetcorn and oat groats.
"On Sunday I went back out in the boat to re-rake and bait the swim with Dynamite Baits red krill groundbait, hemp, groats, chopped worm and caster – and then placed my rigs over the top in the boat.
His hookbaits incorporated red and yellow fake casters mounted on a piece of rig foam to critically balance the hook.
"Because the weed was so thick I had to go out in the boat to land 14 of the fish I hooked," Nick added.
"The 13lber, however, was the only one I did play from the bank as it fought like a bream. I felt I could ease it over the weed without too much trouble.
"I'm not going to the lie, the fight was only around five minutes and didn't put up much of a scrap, but when I saw it for the first time it was by far the biggest tench I'd ever seen.
"It was incredibly fat – it wasn't until I lifted it in the net that I knew it was a big double. I was in total disbelief.
"Tench just don't grow this big in the North West – no one would have believed me if I just took the picture so I rang Dai Gribble to come down to confirm the weight and witness it for me."
Speaking to Angling Times, Dai said: "The tench was exceptionally fat and it was an exceptional catch. "I'd have thought it's one of the biggest tench caught north of Birmingham."