We are very pleased to unveil some great new items of Drennan tackle, just in time for summer!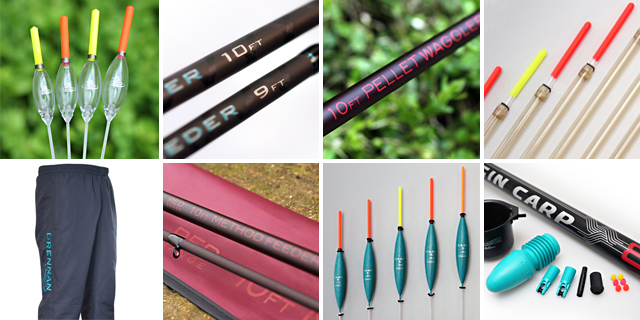 First up has to be the all-new Margin Crystal. This is yet another excellent innovation that utilises our unique blow-moulding technology. The super-strong Crystal® float has a 1mm glass stem and 2.5mm Glow Tip and is available in 0.2g, 0.3g, 0.4g and 0.5g sizes.

Our Carp pole float family has also been strengthened with the addition of the Carp 5. It's a slim design with a 0.6mm wire stem for stability and a sensitive 1.5mm Glow Tip. It comes in a wide range of size from 0.1g right up to 1.5g, making it a truly versatile choice for everything from carp to silverfish.

Anyone in the market for a great-value rod has to check out the Red Range 10ft Pellet Waggler and Red Range 10ft Method Feeder models. Both offer superb quality and performance at an unbelievable price.

The Red Range Margin Carp 8m pole continues this tradition of quality, value and affordability. It comes with a spare Margin Kit and a generous amount of extras including a Skid Bung, Polemaster Pot and Roller Cones.

Some of our trademark Crystal® floats have also been updated for 2016. These include Insert Crystals, Loaded Insert Crystals, Giant Crystals and Loaded Giant Crystals. These precision-made floats are produced in our own factories to the highest quality and now feature even brighter Glow Tips.

Our best-selling Ultralight Bomb & Feeder 10ft/11ft rod now has a younger brother in the shape of the Ultralight Mini Feeder. This great little rod can be fished at either 9ft or 10ft without breaking down. It also comes with two tops complete with spliced-in 3/4oz and 1oz quiver tips for optimum bite detection.

We have also introduced some lightweight Drennan Tracksuit Trousers to our clothing range. These are mesh-lined with zipped pockets and a great choice for warmer weather.

Finally, there is also now a Drennan Aqua Polo Shirt. This stylish top is available in Small to 3XL sizes and looks great on the bank.