Grant Albutt visits Solhampton Fishery to highlight the potential of summertime silvers for giving your match weights a boost.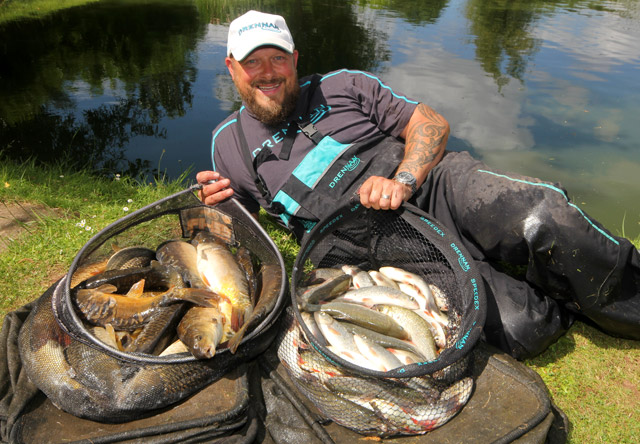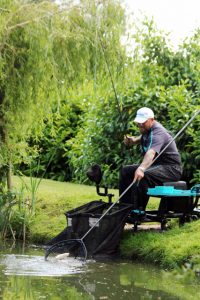 A few weeks ago I entered a big-match qualifier held here at Solhampton Fishery. Despite living quite locally I was not too familiar with the place – but I soon appreciated its potential after five hours of fishing! This venue is really well looked after and full of fish. We all expected carp to dominate, so I was pleasantly surprised when I fished Kingfisher Lake on the complex. I ended up winning the section with 104lb on what was actually deemed a really tough day by the fishery manager!
What was most interesting to me was the fact that more than half of my weight was silverfish, not carp! I soon discovered the lake was home to lots and lots of silvers – especially ide – and I had a great time targeting them.
Silverfish are great to catch in numbers and should never be ignored. You don't have to target them all day, but they can provide a massive boost to your final weight, especially during a midday lull in carp activity that often occurs.
On these well-stocked commercials it's worth targeting the bigger carp during the golden first and last hour of a session, as this is when they seem to feed best. It's those quieter middle two or three hours when targeting the oft-neglected silverfish can pay off. While everyone else is struggling, you can plunder the silvers and really boost your weight!
Sizing Things Up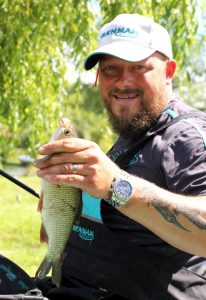 Before you decide to target the silvers, you have to weigh up (quite literally) their size. Some venues are full of stunted little fish that are probably a waste of time catching in a match. However, if they are chunky weight builders, like here at Solhampton, then fill your boots!
I like to gauge the average stamp of a carp and then try and estimate how many silverfish I would need to equal it. On this lake most of the carp average 2lb to 3lb and the ide are mostly from 4oz to 14oz. Catch them fast enough and they can easily equal one of those carp! And while anglers might only catch two or three carp in a tough middle hour, I fully expect to catch a good 30 or more of these precious bars of silver.
What's more, the way I fish stacks the odds of attracting a few carp into the swim as well. By having the right setup and balanced tackle I'm confident of landing any bonuses.
Close-Range Assault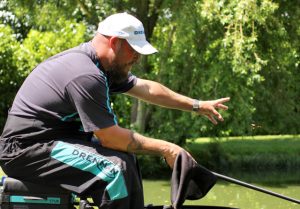 To make targeting silverfish in a carp-dominated match worthwhile you have to catch them fast. That means two things to me; catching short and catching shallow! I love this busy style of fishing as it's so positive and doesn't involve shipping in and out with a long length of pole.
On the day I had over 50lb of ide I only needed to fish a top kit out, which is absolutely ideal. However, not all days will be quite that good, but I'd be happy to catch anything up to around seven metres. Basically, you want to fish no further out than you can comfortably throw bait. Having to pick up a catapult will slow you down, so a comfortable short-range attack is essential.
The Baiting Ploy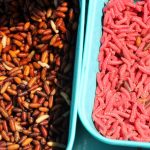 This venue is a little unusual in the fact that you are only allowed two pints of maggots and casters combined in a match. That's a lot less than I'm used to and I'd much rather have four pints on standby. But at least it encourages you to be very sensible with your feeding. It also highlights the shear amount of fish you can catch without having to pile in mountains of grub.
Today I'm feeding no more than five to eight casters at a time, but very regularly. This is a great way to get the fish competing. By feeding small amounts the silverfish have no option than to compete if they want to get some. As they jostle in the water for every last morsel they will start to rise higher and higher in the water to beat their shoal mates to the feed. It's almost like starving them on to the hook. Don't be surprised to see them swirling!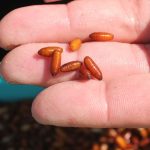 Whether to feed maggots or casters is personal choice. I prefer casters because they make more noise and are easier to throw, plus the different shades all fall at slightly different rates. However, maggots can be just as good on their day.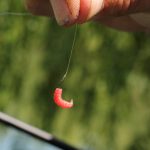 For the hook, I definitely prefer maggots. These are more resilient, easy to hook and often allow you to catch more than one fish before needing to re-bait. Casters are still worth a try, but you have to change a caster after every fish, which slows you down when speed is of the essence.
I vary the way I put my rig in but generally I like to feed short of my float and then drop my hook bait just past this area. Better fish typically hang off the feed, so this helps to pick them off. It also allows a hooked fish to swim out of the feed area with less commotion.
Simple Rigs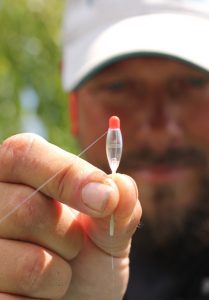 Shallow fishing is all about trying to get into a smooth, unhurried rhythm. There's no place for fancy rigs as that can lead to tangles. My no-nonsense setup consists of a 0.2g Drennan Crystal Dibber on 0.14mm line to a 0.10mm hooklength and size 18 Silverfish Match hook (or a 16 if I can get away with it).
The short float is nice and discrete and doesn't tangle too easily. It takes just three or four No10s, which I will try bulking and spreading out to see what's best.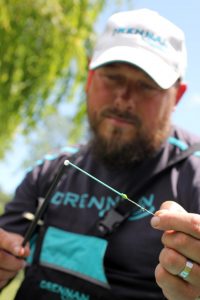 Another key part of the setup is the elastic. I'm using aqua F1 & Silverfish Bungee, which is rated 4-6 and is ideal for quality silvers. Should I encounter anything big it's still got enough strength in reserve to deal with it. Combine light elastic with a Side Pull Kit and you should hopefully be able to land anything if you take your time.
A lot of anglers seem to be obsessed with ultra short lines above their floats but I think a foot to 18 inches is fine. This helps to keep the pole tip away from the fish and also gives me some scope for altering the depth up and down.
Ide & Seek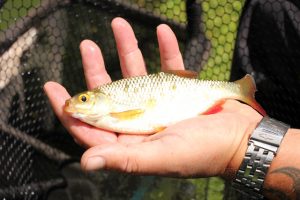 The ability to adjust the depth has been vital today. The last time I was  here I caught loads of ide fishing just eight to 12 inches deep. Today, even though conditions seem even better I have only caught little rudd for the first 45 minutes. I never even saw a rudd last time!
I was beginning to think that perhaps the ide were further out or maybe even not at this end of the lake. I then decided to slide my float up the line another 12 inches and the difference was unbelievable. I went from not seeing an ide to hooking one every cast for the next 45 minutes! If that doesn't demonstrate just how vital it is to experiment with depths then I don't know what does. It also highlights that no two days are ever the same. Today the ide were happiest between 18 inches and 2ft.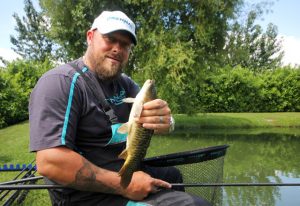 I have had a few quiet spells when the silvers have disappeared. Each time it was because a carp had gate-crashed the party. Even with light tackle I've successfully dealt with almost all of them and had a really enjoyable day. The longer the session has gone on the more the carp have turned up. Surprisingly I could still catch ide amongst them, so I never quite knew what the next bite would bring.
After a few hours sport I found myself scraping the bait tub as my two-pint quota had finally ran out. In that time I'd caught loads of fish and had a great session. After a quick catch shot and a look at my watch there was still some time to switch to an all-out carp attack down the margins before going home.