Drennan Barnsley Blacks almost pulled off the double at the latest Winter League final fished on the drains in March and at Decoy lakes.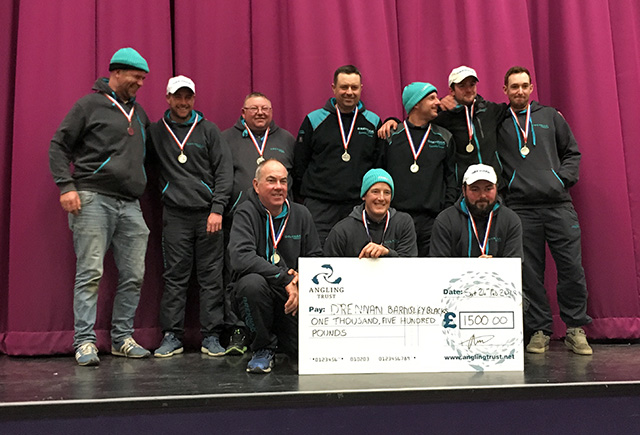 After winning last year's final we were all looking forward to this year with some great fishing at both venues in the run-up to the match despite the cold water temperatures.
At the draw we felt we again had drawn a decent set of pegs on the drains but not so impressive on Decoy Lakes were we knew the fish would be tightly shoaled with the temperature hovering around freezing point. With thirty-three teams in the match, this was always going to be a high scoring event, every point was worth fighting for with weights being very close, especially on the river sections.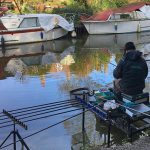 My peg was at the library section at March in the forties, there had been some good weights here on the previous match and I was quite excited to get on the bank where I hoped I could score well for the team. Once on the peg, however, I was a little disappointed. My peg was very short and with two good anglers either side in the shape of Dorkings Richie Reynolds and Paul Glenfield the other a section win was going to be difficult.
Our team plan was to start short with bread punch at four sections of my Acolyte Pro pole into the deepest point in my peg. Here I fed three tangerine sized balls with a little gravel in to get it to the bottom in the moderate flow a foot apart. This allowed me to run the float over the line of feed. For this line, I had two rigs with cut down AS7 floats with a simple Inline Olivette and a number 9 dropper shot. I also set up a 0.6gram and a 0.4gram in case the flow started to drop off during the match. My hook choice may surprise you. I am really into the Barbless Silverfish Maggot hooks and with its slightly turned in point even with a size twenty, I lost only one fish swinging most to hand all day.
I didn't feed any bait anywhere else with the fear of pulling fish of this starting line preferring to feed a new line just past the bread line once this started to dry up. This was something the lads had picked up on during practice and I felt it was a massive edge to give yourself the best possible start. After just over an hour I could feel my bread line was drying up so I fed two large pots of hemp at 11meters and a new groundbait line for squats at five sections. The groundbait was a mix of 3000 Sensas Canal black with 200ml of Coriander and half a bag of Sensas pre scolded grilled hemp in it for roach.
Here again, I set up two rigs with SF2 floats in 0.2gram and 0.3gram with strung out No.12 shots with a size 22 hook in the same pattern for squats as hook bait. All my rigs had No.4 elastic through just one tip section of the pole making it easier to swing fish to hand when possible.
I again had a run of fish but felt that this squat line was not as good as the bread line I had started on and this prompted me to start on bread across over the hemp I had cupped in earlier. Feeding one ball of bread across and shallowing my 0.4g AS7 rig up for this far line I had a really good run of chunky roach before this also deteriorated and signalled a change to loose fed squat for the rest of the match. For the remainder of the match, I fished mainly on the drop with a single squat on a size 0.1 gram SF1 float, again with strung out No.12s. I managed to keep the bites coming right to the end of the match, feeding around a pint and a quarter of squats and introducing the occasional ball of bread punch if the bites slowed.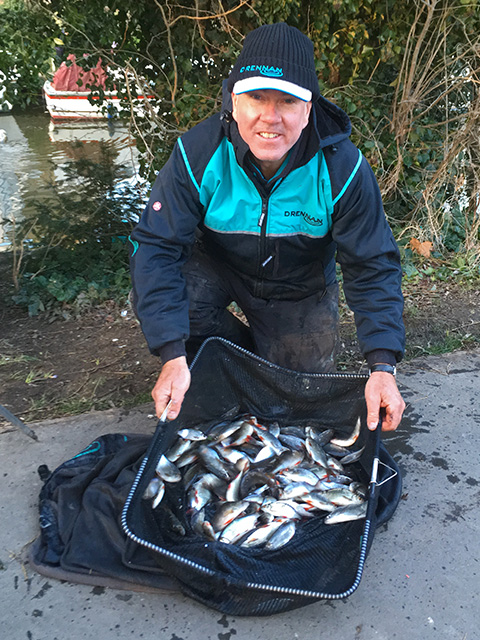 Once the scales had weighed in the full section I was really pleased to have done enough to win the section with just short of 6kg. I had really enjoyed the match and by working the swim to keep bites coming it was a rewarding match. On the Drains, we had scored well with a first, second, third, fifth and eighth, so we were well in contention. With a second from Nick Speed on Decoy and then some midway finishes, our 56 points were good enough for second overall only beaten by a great performance from Maver North West scoring a fantastic 51 points to lift the title.
Congratulations to them on a fine performance and thanks must go out to both venues for providing a brilliant sport and Angling Trust for putting on such good match.