"it woke up and I had to use every ounce on knowledge of the peg to try not to lose it in any snags.."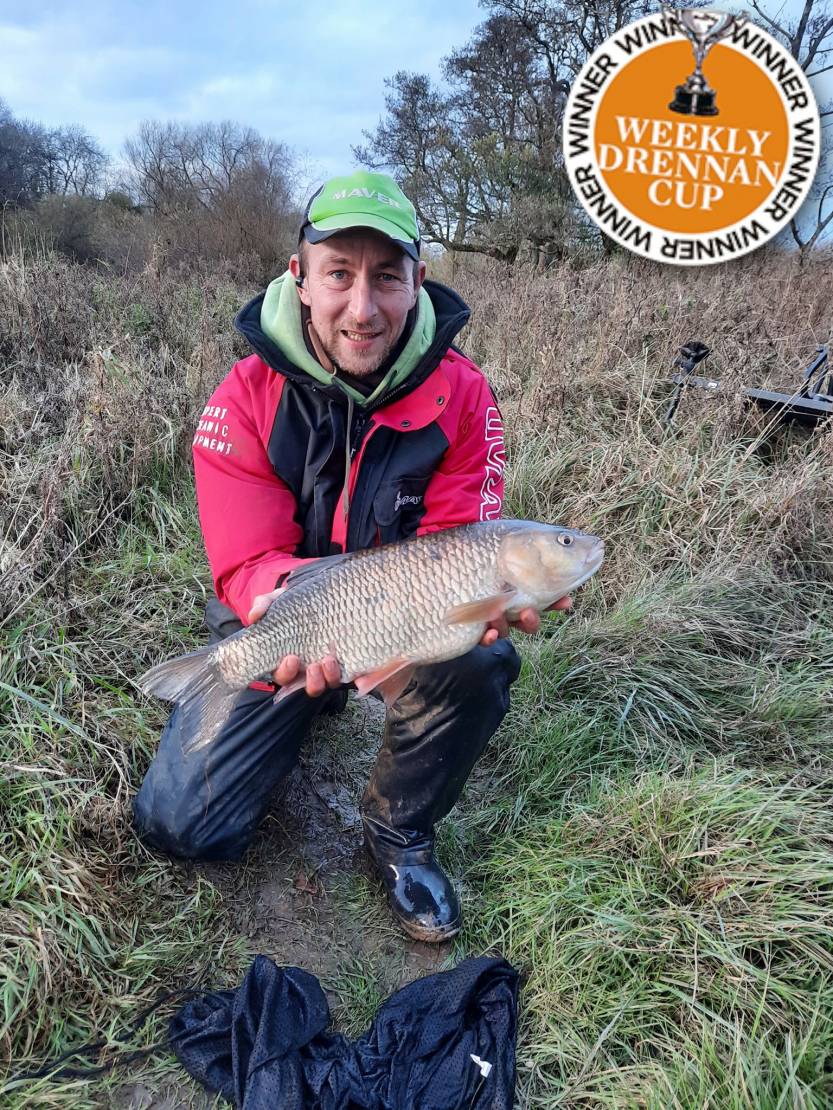 With no match fishing allowed during the recent lockdown R.P.A match secretary Nathan Proctor took advantage of not having to organise local matches and instead, changed his focus to try and track down one or 2 of the illusive chub that the clubs section of the River Ure supposedly holds.
Nathan told us "Being the match secretary for the R.P.A this year has not been an easy task in anyway as you can imagine, I take my hat off to all those match organisers that have managed to keep matches ticking over, when allowed. Seeing as match fishing had been stopped during the most recent lock down I decided to try and target one or 2 of the illusive big chub in our river at Ripon. This was to mainly see if they were still there. I had tried another peg below this one the day before, and managed 5 chub to 4lb to 8oz all on the bread feeder which is a method that I used to bag up regularly 10 years ago. In more recent years we have been for a solitary fish in amongst the dace and grayling, so have stuck with meat, pellets, steak and lobworm.
I decided on peg 11 above north bridge on the second day, fishing liquid bread, chopped fine, so as not to overfeed the peg. Nothing for the first hour so I went and stuck the stick float on for an hour as I know leaving and resting a swim can produce instant bites at times. I got a few grayling on the stick in an hour or so spell so soon went back on the feeder across.
It had only been in for a few seconds and I had a really small dink, not sure if it was a bite or not I hit it anyway and this was met with a solid resistance. I thought was a snag but then after 30 seconds or so it slowly started to move, oh dear I thought I had foul hooked a salmon or a big pike as it just stayed where it wanted to and wallowed.
After five mins of this I started to gain some line on the fish and managed to get it to the middle of the river, here it woke up and I had to use every ounce on knowledge of the peg to try not to lose it in any snags. My new 13ft rod absorbed the lunges perfectly and without this I'm sure I would have pulled the hook at some point. After a 10 minute battle it started to surface and it was at that point I realised it was the fish of a lifetime.
My previous best being 6lb 8oz a few years earlier further down river. This thing was like a tank! By this time a couple of other anglers had come to look at the fish and witnessed it being weighed, the scales went round to 7lb 4oz! I think John who took the pics at one point said he was shaking just looking at the size of it!"