Rounds 8 and 9 of the Messingham Sands Drennan Silverfish Winter League were held on the Swan Pond over the Christmas period and both matches were dominated by the Grimsby-based angler, Dennis Pattinson.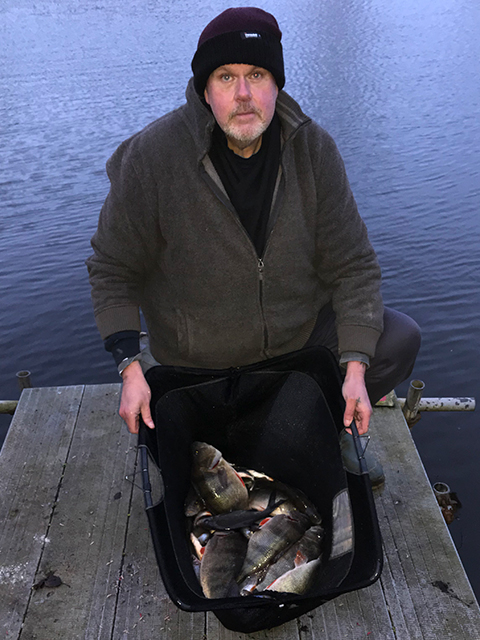 Dennis ignored the usual worm and caster approach which has been scoring well on the lake for most of the series; instead, he opted for his usual tactics of feeding heavily with maggots and fishing on the long pole with light lines and a 22 hook.
To say that he got it right would be something of an understatement, he won both matches comfortably as well as managing to win a midweek open also held on Swan Pond.
The first match saw Dennis draw an in-form peg 41 and he made no mistakes catching a mixture of roach, perch, skimmers and odd F1's for a total of 42lb 7oz. This gave him a healthy winning margin over his travelling partner Paul Seed who employed a similar approach on peg 12 to weigh 26lb 1oz.
Round 9 saw most people struggling for bites after two days of snow and ice followed by a night of really heavy rain. Even Dennis was left scratching his head on peg 15 after an almost bite less first hour. He then began to catch a few small fish until a shoal of large perch were attracted by his heavy feeding.
Dennis included two fish of around 3lb in weight as well as a number of others which were between a pound and two pounds. These specimens all came in the space of a couple of hours after which he was able to top his weight up with a steady run of small roach to bring his winning total up to 24lb 5oz.
Joint league leader, Dave Mountford came in second from peg 41 with a mixed bag of small fish totalling 19lb 3oz.
Round 8
1st: Dennis Pattinson Grimsby – 42lb 7oz
2nd: Paul Seed Grimsby – 26lb 1oz
3rd: Alan Gregory Scunthorpe – 19lb 7oz
4th: Dave Mountford Grimsby – 18lb 6oz
Round 9
1st: Dennis Pattinson Grimsby – 24lb 5oz
2nd: Dave Mountford Grimsby – 19lb 3oz
3rd: Kevin Johnson Messingham – 17lb 7oz
4th: Luke Harrison Crowle – 15lb 12oz