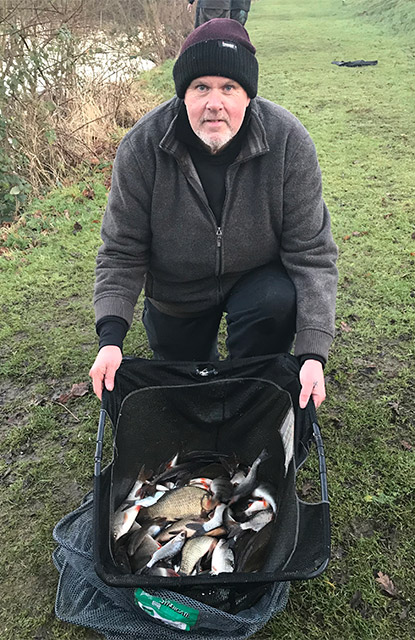 With air temperatures barely creeping above zero over the weekend it was a case of fishing for bites in the penultimate round of the Drennan Silverfish Winter League on the Swan Pond.
However, despite a slow start for most fish, fed well as the match progressed and weights were good under the conditions.
Dennis Pattinson fed heavily with maggots on peg 41 and recorded another individual win. Dennis had a real mixed bag, boosting his weight of roach and small skimmers with some good sized perch, F1s, Crucians and Ide, all taken on single maggot on a size 22 hook at 13-metres.
His winning weight of 25lb 2oz was just 7oz too much for Pete Riley who came second from peg 31, there then followed a string of low 20lb plus weights in what was a fairly close match.
Kyle Hartley made the most of his peg 12 draw to secure an important section win with 21lb 5oz, which was enough to see off the challenge of Dave Mountford in the overall league. Dave did well from a moderate draw but his 18lb mixed bag was only good enough for second in this section, leaving Kyle with an insurmountable lead with just one match to go.
1st: Dennis Pattinson (Grimsby) – 25lb 2oz
2nd: Pete Riley (Scunthorpe) – 24lb 11oz
3rd: Graham Mumby (Scunthorpe) – 22lb 2oz
4th: Luke Harrison (Crowle) – 22lb 1oz