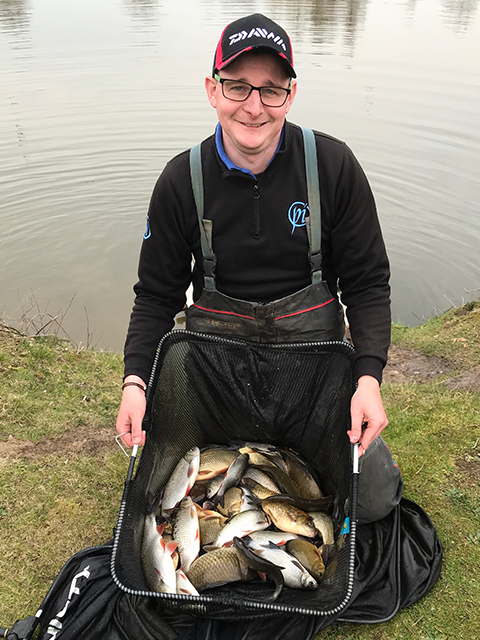 Increasing water temperatures saw a change in the behaviour of the fish and the well-deserved winner Luke Harrison was the quickest to respond.
After a steady start to the match, he soon realised that the fish were well up in the water and a switch to fishing casters shallow at 12 meters proved to be a masterstroke. He was quickly into Ide, F1s and some really good roach, with fish to over 1lbs gracing his 59lb 7oz winning net.
Although his catch rate did not slow down, the size of the fish decreased in the last couple of hours, although he managed to keep enough roach going into his net to hold off a late charge from Kevin Johnson who caught mainly skimmers on expander pellets for 56lb 11oz.
The two anglers who are battling for the title were separated by just one ounce. Dave Mountford weighed 55lb 7oz to take third place and Paul Seed finishing in fourth. They were however in different sections and both went away happy with their maximum point scores.
1st: Luke Harrison (Crowle) – 59lb 7oz
2nd: Kevin Johnson (Messingham) – 56lb 11oz
3rd: Dave Mountford (Grimsby) – 55lb 7oz
4th: Paul Seed (Grimsby) – 55lb 6oz