Carl Swetnam's eyes lit up when he drew peg 15 on Tripp Lake in the penultimate round of the Drennan Silverfish League and it certainly didn't disappoint.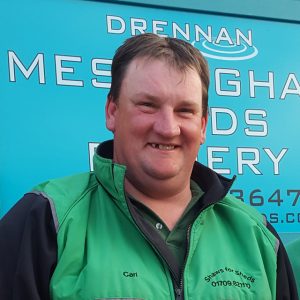 Despite being pestered by carp for the first half of the match at the prolific Scunthorpe venue, his dead maggot and groundbait approach still produced a 108lb winning weight. That comprised a real mixture of skimmers, roach, ide, F1s and crucians.
Runner up Dennis Pattinson also fished maggots on peg 10 for a 90lb mixed bag.
The final match is on the Swan Pond next Saturday and will effectively be a two-horse race for overall first place between Carl Swetnam and Kevin Johnson. Both men won their sections this week to keep the interest going right to the end of the 13-match series.
Weights have fluctuated during the week, but 100lb has been a realistic target on most matches. This has put results in anyone's grasp, as both carp or silverfish approaches could produce a win.
Lenny's Lake continues to fish well for the Syndicate members, with plenty of good sized carp and catfish reported. Scunthorpe angler Neil Graham pulled out seven carp over the 20lbs mark, the best a 27lb mirror, as well as a 29lb cat, all in the same session last week.
The Drennan Spring Festival Commences today and, in keeping with the past couple of years, poor weather is forecast! Hopefully it won't be as bad as last year, when winter returned with a vengeance for the entire week. Despite this, the fishing was excellent and fingers are crossed for more of the same this year.
Drennan Silverfish League, Tripp Lake, Saturday
1 Carl Swetnam, Rotherham 108-02
2 Dennis Pattinson, Grimsby 93-00
3 Kevin Johnson, Messingham 84-04
4 Steve Ellis, Scunthorpe 60-07
Sunday Open, Islands Lake
1 Simon Gayle, Grimsby 89-05
2 Nick Houghton, Hull 72-11
3 Carl Swetnam, Rotherham 60-02
4 Glen Collins, Hull 58-04
Tuesday Open, Tripp Lake
1 Frank Church, Grimsby 78-14
2 Jamie Green, Grimsby 78-05
3 Pete Maddinson, Winteron 60-09
4Terry Holmes, Ulceby 59-09
Wednesday Open, Swan Pond
1 Dave Mountford, Grimsby 154-03
2 Ken Pacey, Gainsborough 112-11
3 Scott Gollings, Grmsby 93-14
4 Rob Hill, Grimsby 73-01
Thursday Open, Islands Lake
1 Ian Taylor, Hull 86-14
2Trev Thompson, Grimsby 68-05
3 Ernie Armitage, Grimsby 62-01
4 Dave Mountford, Grimsby 62-07
Friday Open, Swan Pond
1 John Alderson, Scunthorpe 99-06
2 Simon Drayton, Upton 93-00
3 Graham Batchelor, Scunthorpe 61-15
4 Mick Brumpton, Grimsby 59-00