Last week saw an incredible increase in water temperature from 14 degrees to 21 degrees in the space of four days at Messingham Sands. There was unsurprisingly, a huge amount of spawning activity across all of the lakes as a result, with all of the silverfish species involved as well as the carp.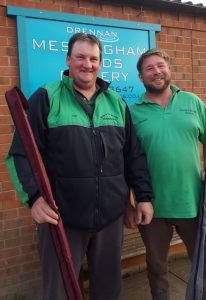 In angling terms this leads to unpredictable sport. Those fish which are spawning show little or no interest in feeding and the rest of the population are actively engaged in devouring as many of the eggs being produced as possible! It can be difficult to compete with nature's banquet during this brief period and as far as anglers are concerned it is a real feast or famine time of the year.
The sell-out Drennan Pairs match held on Bank Holiday Monday was more on the famine side of the equation as anglers struggled to find carp which would feed consistently. Tony Noon topped the individual list with the only 100lb net of the day from peg 17 on the Islands Lake. An impressive 5 point score from the winners of the earlier Easter Pairs event, Carl Swetnam and Mick Shaw, was far too good for the rest of the field as they romped to their second successive title. Carl drew peg 26 on the Little Swan and his 83lb of carp was good enough for 3 points. Mick finished 2nd on the Islands Lake from peg 15 with 74lb of silverfish.
Steve Bingham had an excellent weekend, winning the Open match on Hollywood on Saturday with 157lb of carp from peg 2 by fishing pellets in a small banjo feeder on a day when Paul Seed came in 3rd with 290 silverfish for 101lb at the next peg.
Steve had a different kind of peg for peg battle the following day when he drew 26 on the little Swan and found an in form Simon Gale on peg 27. Carp fed really well for both men, Steve coming out on top with 263lb to Simon's 221lb.
The Fish'O'Mania Qualifier on Wednesday was a resounding success with former winner Steve Cooke getting through to the final with a superb 205lb weight from peg 26 on Hollywood. Steve beat off the challenge from 90 other anglers in a match that produced 13 weights over 100lb, despite some spectacular spawning activity on the day.
The Oak Tree Pond is in really good form for pleasure anglers targeting carp at the moment. Some really good fish up to 23lb have been landed this week although the average size is between 3lb and 8lb. Barnsley angler Jordan Shears had a 17lb 8oz mirror carp on his last cast of the day to add to the 40 others he had already caught from peg 45 on Sunday.
Drennan Bank Holiday Pairs
Pairs
1 Carl Swetnam & Mick Shaw 5 points
2 Kyle Hartley & Ken Pacey 13 points
3 Jamie Green & Paul Seed 14 points
4 Alan Gregory & Kevin Johnson 16 points
Individuals
1 Tony Noon Hull 102-06
2 Ronny Hall Hull 92-14
3 Jamie Green Grimsby 92-10
4 Carl Swetnam Rotherham 83-05
Saturday Open, Hollywood
1 Steve Bingham, Upton 157-05
2 Tommy Grice, Doncaster 130-14
3 Paul Seed, Grimsby 101-10
4 Mark Lidgard, Brigg 83-14
Sunday Open, Swan Pond
1 Steve Bingham, Upton 263-14
2 Simon Gale, Grimsby 221-2
3 Tommy Grice, Doncaster 111-10
4 Steve Ellis, Scunthorpe 88-02
Saturday Open, Islands Lake
1 Josh Brown, Goole 66-01
2 Terry Bontoft, Winterton 49-08
3 Mick Brumpton, Grimsby 47-02
4 Alex Dalton, Sheffield 47-01
Tuesday Open, Tripp Lake
1 Martin Young, Grimsby 124-15
2 Jet Harris, Grimsby 97-06
3 Tony Woods, Grimsby 66-08
4 Danny Roberts, Grimsby 54-11
Thursday Open, Tripp Lake
1 Ian Taylor, Hull 64-04
2 Keith Garret, Grimsby 55-12
3 Mick Crosby, Grimsby 48-15
4 Dave Collins, Grimsby 44-04
Friday Open, Swan Pond
1 Mike Smith, Scunthorpe 89-14
2 Ian Coatham, Scunthorpe 83-06
3 John Dudley, Doncaster 77-14
4 Simon Piggot, Grimsby 76-09