Find out how Paul Glenfield makes the most of a winter river session by combining specimen and match tactics. Join the former Thames Champion on the banks of his favourite river for a session that's full of surprises.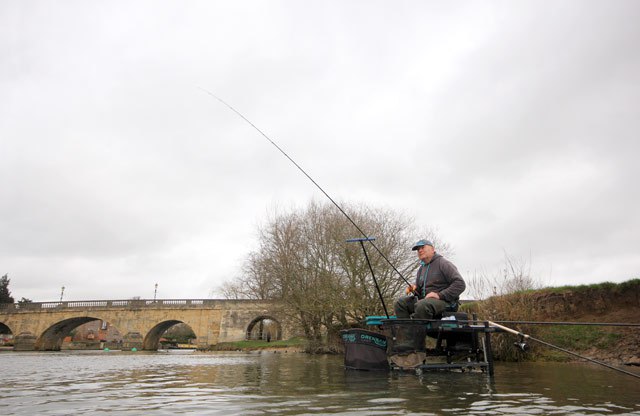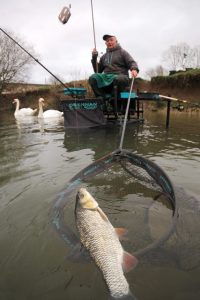 The tail-end of the season can offer some fantastic river sport if you time things right. Here on the Thames at Wallingford there's a touch of extra colour and flow, but it's fining down quite nicely. These are ideal conditions to get out and enjoy a few hours on the riverbank!
Fish can shoal up tightly in the winter, so location can often make or break a session. My advice is to head for a town stretch with an obvious fish attracting feature, such as the road bridge that's upstream of me today. With the natural cover this offers, plus the variations in flow it creates, you can be confident that there will always be a few resident fish about. Bridges are also a magnet for people who love to feed the resident ducks and swans, so there's always a bit of free food going in for the fishes.
I've gone for a two-pronged float and feeder approach to get the most from today's session.  A loaf of bread, some maggots and hemp are all I'll hopefully need for a decent day.
The Bread Feeder
Winter is possibly the best time for targeting quality chub, so I'm hoping a few will show today. A bread feeder is one of the best tactics and has caught me fish to over 6lb from this river recently. It can be an instant method if there are any hungry chub in the area, so that's what I plan to kick off with today.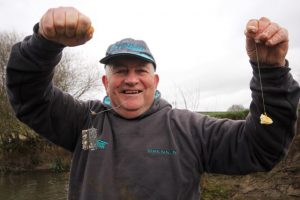 The setup is quite simple and consists of a 12ft Matchpro Super Feeder with a 4000-size reel loaded with 6lb line and a 3ft 0.20mm Supplex hooklength. The hook is a size 8 Super Specialist with the barb pinched down, which I feel helps the fish hook themselves easier.
I am using a 45g feeder to hold bottom today and it's a traditional plastic open ender rather than a cage feeder. That's because I want the feeder to go straight to the bottom before emptying its contents.
Perhaps the most important part of the setup is the fact that I'm actually hair-rigging the bread flake hook bait with a Pushstop. This takes a leaf out of the specimen carp angler's book and I'm convinced it has greatly increased the number of bites I actually hit.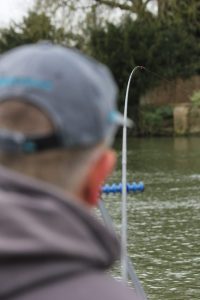 My bread for the hook is torn off from a thick sliced white loaf. I typically use two or three bits of bread pinched together. The feed itself is simply a loaf of white bread that has been coarsely liquidised. I also like to add some heavier hemp to the bread feed. This helps to ensure some bait in the area when the chub arrive and hopefully holds them in the swim a bit longer.
I am casting to the main flow around two thirds of the way across to begin with, but will try even further if bites are not forthcoming. I tend to cast straight in front of me. Once the feeder hits the bottom I then feed out a small bow of line, with my rod rest pointing high and slightly downstream. This keeps as much line out of the water as possible and helps the feeder to hold bottom easier in the current. I'm using a 3oz carbon tip today and most bites should be positive drop backs as a fish hooks itself and dislodges the feeder.
The Float Swim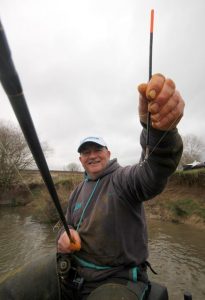 The river purist in me also wants to trot a float later in the session, so I'm priming a closer swim with hemp and maggots by catapult. With a tricky downstream wind to contend with (and one that's already blown my favourite hat off!) I unfortunately cannot present a stick float properly, so I'm using a home made straight peacock waggler instead. This is locked on the line with four AA shots with five or six No8s or No9s strung out down the line.
I'll fish with the hook bait just tripping the bottom to begin with, but fully expect to adjust this throughout the day. I know this swim gradually shallows up further downstream so I slightly undershot the float for extra buoyancy and so I can drag more line on the bottom if necessary.
It's quite a shallow and pacy today, so I'll feed maggots a metre or two downstream of me and heavier hempseed a few metres further down than that. This allows me to cast out and have my waggler rig working properly in the swim by the time it reaches where I think most of the feed is settling.
I will try both single and double maggot, but as it's chub and quality fish I'm really hoping for, I'm not fishing too fine. A 0.12mm hooklength to a size 18 B510 hook is ideal and should hopefully deal with anything I hook. This is matched with my trusty 14ft Acolyte Ultra rod, which has a really crisp and forgiving tip section but still has some surprising reserves of power should I hook a specimen.
It's worth noting that my hands are also 'slightly' bronze today! That's because I'm using mostly white maggots with a few reds mixed in and these have all been liberally doused in turmeric. This vivid spice not only colours the bait, it really helps to degrease them so they sink faster in the current. It also gives them a spicy kick, as all my friends know I'm quite partial to a curry!
The Session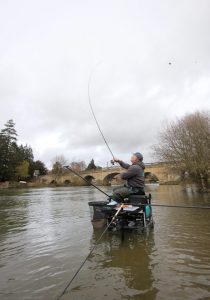 Today has been a little more difficult than I expected, but it's made me work a little harder and the reward is a very colourful net of fish. I've managed a couple of early chub on bread flake. Even though they've not been massive fish today, the bites have been savage and unmissable drop backs, which is testament to the hair-rig's effectiveness!
I steadily primed my waggler swim a third of the way across the river with hemp and maggots and was itching to give it a go. A few roach, dace and chublets on this came towards the top of the swim and double red maggot seemed to be the stand-out bait today.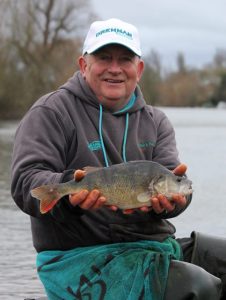 As the session progressed I began trotting the float even further downstream. That's when I struck into a fast bite and something immediately leapt out of the water! Even though I've only ever had a few from this river before, I instinctively knew what it was before I'd even seen it. It was a rare brown trout! It's also my biggest trout from the river. Even with its empty looking belly it must have been a good 3lb.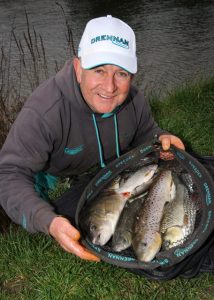 Just five minutes later I again struck and leant into something substantial. This was an altogether more different fight as the fish held deep and lunged all over the place. There were a few hairy moments right under my rod tip before a perch of well over 2lb finally surfaced! I've had countless big perch from the Thames but cannot remember hooking one quite this big on this stretch.
That manic 10-minute spell has seen me end up with a simply lovely mixed net of fish. It proves that you never quite know what you'll hook next on a river. Every day's different and that's why I love river fishing so much!
Update: Another Surprise Trout!

Paul went back to the Thames a week later and managed yet another surprise trout! This time it was a much bigger specimen caught on the stick float.