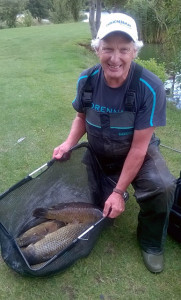 Roger Marlow has won the 2015 Veterans National Championship with over 100lb of carp. 
The England Veteran and Drennan Leicester team man caught 118lb 12oz from Peg 15 on Lake 5 at Makins Fishery. His catch included over 20 carp, including two double-figure samples, plus around 14lb of smaller skimmers.
"I quite fancied my peg when I saw it as it looked really good with a bit of room. I also kept things nice and simple and didn't go mad with the feed," Roger explained.
"I caught most of my fish with a top two plus two sections. I Kinder-potted 6mm fishery pellets and a pinch of hemp and fished either a banded 8mm, a soft 6mm or three red maggots. The rig was a 0.3g AS3 on 0.18mm Supplex to a 0.16mm hooklength and size 16 Wide Gape Carp or a 16 Carp Bandits Hooks To Nylon fished in 4ft of water. I also used yellow Carp Bungee elastic, which was perfect on the day.
"I also managed three carp down the edge on maggots over groundbait, but silverfish and a dive-bombing water vole upset this swim a bit! On this line I used a 0.2g AS4 float on 0.18mm Supplex direct to a Margin Carp hook and stronger pink Carp Bungee set soft."
Over 160 anglers fished this year's Angling Trust Veterans National Championship, which is an individual competition open to male and female anglers aged 60 years and older.