All-round angler, Jake Benson was determined to help his friend and fellow angler master the art of trotting so a plan put into action and this is how they got on.
Jake runs through the day in his own words:
As the alarm signalled my 5:15 am wake up call, a split-second decision nearly saw me snoozing the alarm and sending myself back to dreamland, but then I remembered I was already there as it was Sunday morning and I was going chub fishing!
I swiftly swung my legs out of bed and stumbled my way to the window whilst rubbing the sleep from my eyes, eager to see the forecast; as predicted, the surrounding roof tiles were dusted with frost, just visible under the dull glow of the streetlights. This didn't put me off in the slightest though, as, despite the cold, I knew the conditions would be ideal for my favourite method of long-trotting maggots, with the river almost certainly running low and clear.
I crept around the kitchen as not to wake up the rest of the household, quickly making lunch and pouring my flask, before I wrapped up and headed out into the gloom full of hope about the day's adventure.
After scrapping the ice from the windscreen of my trusty little van, whilst waking up all the neighbours as the Spitfire-like engine coughed, rumbled and rattled to get going in the cold, I was soon hitting the road. I drove through the town full of anticipation about what the day might bring. The plan was to catch my friend, Zack, his first ever big chub on the float. On my journey to his house, all I was thinking about was how chuffed he'll be when that float buries and he gets to experience the dogged fight of a big old chub on balanced tackle – no pressure!
To be honest, though I was really looking forward to running a Loafer for chub myself, I was more excited for Zack. It was all new to him and I was more than happy playing ghillie for the day. I've taken Zack under my wing a bit I guess over the past couple of years. and being able to help another angler is quite often more satisfying than catching myself, so long as he didn't fluke a real monster that is!
The destination was the River Ivel, which was a fair drive from home, but a distance I knew was well worth travelling. I'd already chatted to Zack in the tackle shop the day before, persuading him to join me for the day by explaining how good the chub fishing can be here, highlighting the fact he'd almost certainly be able to conquer the art of trotting here and maybe even break a personal best. I think after recalling several scenarios to him about my exploits catching chub on the float this season, he was desperate to get involved, and in a deal for me driving the hour-and-a-half to the river, he purchased four pints of red maggots for the occasion.
Location is always the first priority and, luckily, because I'd fished the stretch on-and-off throughout the season, I knew a handful of areas that would definitely hold shoals of chub. My most recent visit was just before the new year, with my other mate, Sam. We struggled that day but did cross paths with a few fish, so I decided to head towards a swim where we'd fooled two or three.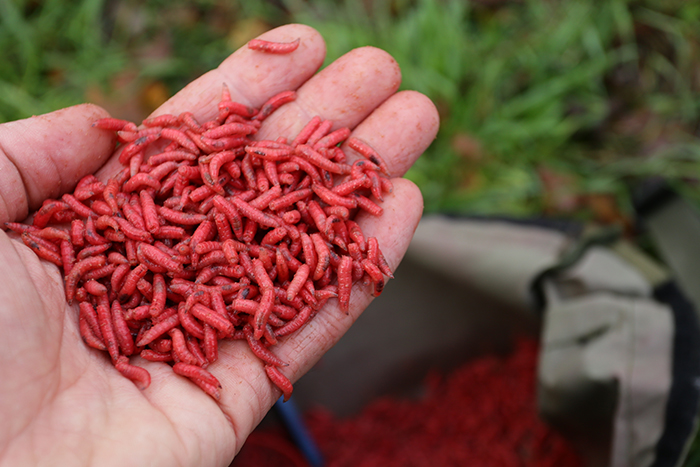 Sitting well back from the stream-like river that in places is only a couple of rod-lengths wide at best, we carefully set-up our rods, whilst I explained to Zack that the single most important aspect of long-trotting was the feeding regime. It really is pivotal, so every thirty seconds I ensured another pouch-full of maggots was delivered into the head of the swim, continuously building the shoals confidence as they picked off the free offerings.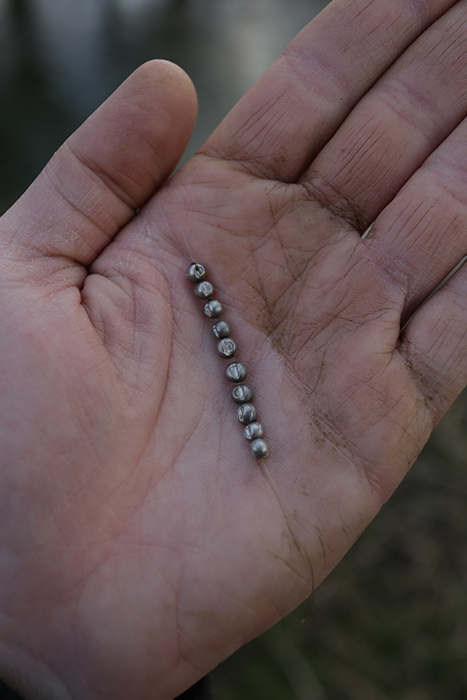 Between flicking a few maggots out, Loafer floats and Super Spade hooks were attached to our Float Fish mainline – the perfect tools for the job at hand. In the cold winter water, the chub were likely to be hanging deeper in the water, so rigs were bulk-shotted two-thirds down. This also offered superb stability in the sometimes-turbulent flow. Lastly, due to the freezing air temperatures, a smidge of glycerin was applied to the rings to make certain they didn't freeze up – nothing was going to stop us!
Patience doesn't necessarily pay sweetly in angling, but the longer we could hold off with our floats, the better our chance of getting an instant bite. We waited for what must've been around half-an-hour, all the while being sure to keep the feed trickling in – each pinch of maggots deposited painted the perfect picture in my mind and below the surface as several greedy chub raced to each morsel. Not only was the shoal's confidence high, so was mine, and I knew it was finally time to deploy a bait amongst them.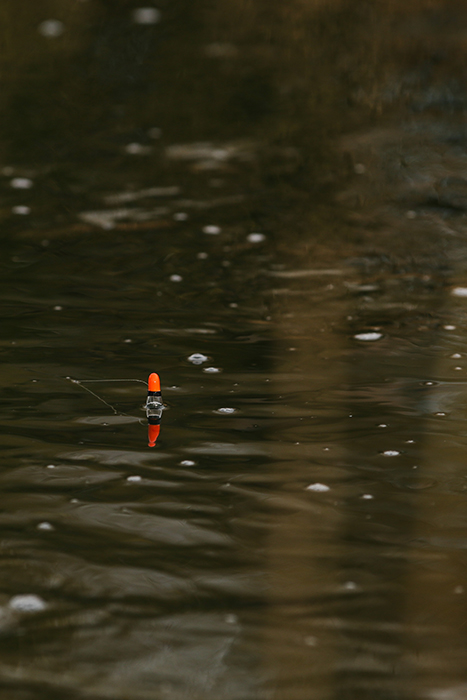 Zack, the 'apprentice', was up first. I could sense the eagerness yet distinct nervousness in his actions, as keen as ever, but filled with anticipation about what might happen. I talked him through it, making sure to drop another handful of feed in the flow moments before his float was simply introduced with an under-arm swing, dictating that his double-maggot hookbait fluttered amongst the free-falling reds drifting in the current.
This would create an unbeatable scenario. The chub would never be able to distinguish the danger as it was all delivered on their platter together, blissfully unaware one of them was about to make an inevitable, yet understandable, mistake.
As the float meandered through the creases, eyes were firmly fixed on the orange paint, knowing any second it could vanish… wallop! Typical of chub bites, the loafer sunk like a bomb, but the 'amateur' Zack was slow to react, bumping the chub as a miss-timed strike was made! Was this to be a disaster which spooked the shoal?
I've been here before and comforted Zack by telling him another bite was almost a certainty. The script was written with more maggots, and as history repeated itself this time there was no mistake as Zack was fully-focused and keen on revenge. His thirteen-foot float rod wrapped in half as he connected with a dead weight – like striking into a snag was how I always described it to him. Slow, tell-tale lunges on the rod tip though, injected him with adrenaline, telling him it wasn't bottom and that he was in fact, playing tug-of-war with his first float-tempted chub.
Balanced tackle and light lines always make for a nerve-shattering battle, and with knees knocking and hands shaking as the anti-reverse was flicked, I could see the expression on Zacks' face was a mixture of pure happiness and sheer trepidation. Isn't it funny how we do everything possible to get that one bite, then when it happens and you're playing the fish you've been dreaming of hooking it's enough to feel completely sick? I guess it's that yo-yo of emotions which makes angling so compelling, with the pinnacle of catching a fish the high which keeps us addicted.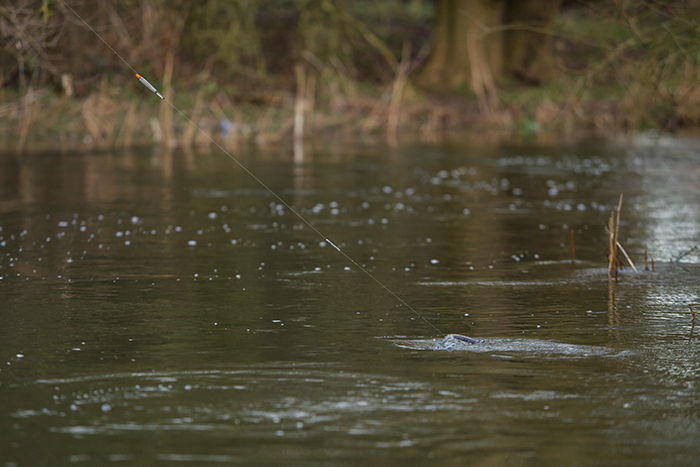 Zack had to concentrate, using every ounce of fish-playing knowledge he'd learnt all for this moment, as one wrong move would see us back to square one with little hope of another chance. The chub tried all of its trademark manoeuvres, the most classic of all burying its head in the nearside margin, but as it twisted and turned in the flow it's tiredness became apparent.
"Looks a good fish" were my words as I put extra pressure on the youngster who by now was desperate for victory. I grabbed the net and told Zack to take it easy, as I'm sure no fewer chub are lost in the final stages. He gently worked the fish towards the net, offering up the opportunity for me to secure the win with one swift scoop – yes!
Safely enclosed in the mesh, we gently hoisted her upon the frozen mat to take our closer look. The ever-reliable size 18 Super Spade was held in by a slither, just inside the skirting of those rubbery white chops' chub are famous for. Once slipped out, we admired what was a wonderful start to a winter's morning. It was a thick-set fish, wide and deep, but surprisingly hollow. It had a really big head, which I always think is a sign of an older fish, but still, it wasn't quite as plump as I'd expect it to be in February. Never-the-less it was a beautiful chub, that looked its best as Zack held her up for pictures in the morning sunshine which was just about starting to thaw out the countryside around us.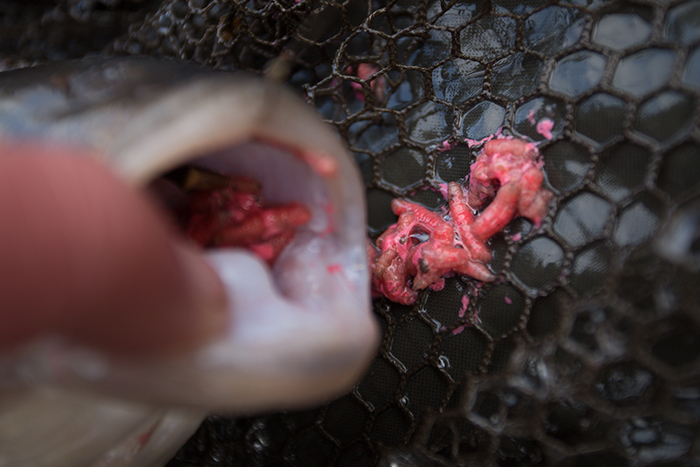 As I captured the moment, the chub pulled a suitably miserable expression, in contrast to Zack who was beaming from ear to ear! For me, it was pressure off, as I'd promised Zack a fish of this calibre on the float, but for him, it was a moment of pure elation.
The last thing to do was to put a number on what was a definite personal best for the 17-year-old, with my guess being somewhere closer to the five-pound mark than four, though an on-looking bystander stated it was a four at best. I was confident in my estimate, and as the scales waved round to 4lb 12oz I was proven correct; these onlookers rarely know what they're on about do they!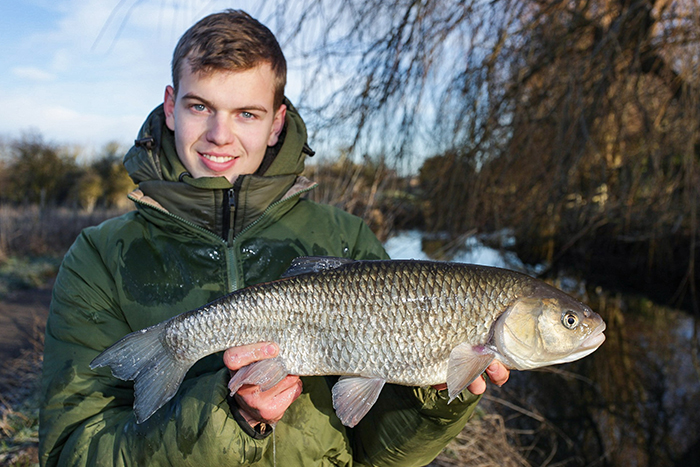 In the scheme of specimen circles it was by no means an absolute monster, but seeing as Zacks biggest chub prior to that was lucky to be over 3lb, it definitely was to him, which made the capture special, and was just the spark to light a fire inside a future big chub angler of that I'm sure!
That capture set the tone for the day, seeing us ending up with seven fish between us, with the first one the largest of them all – we won't mention the monster Zack lost in the afternoon. What would angling be without the one that got away? Well, it gives us a superfluous excuse to keep on going back I guess!