The final match of the Drennan Silverfish Winter League was held on the Swan Pond on Saturday.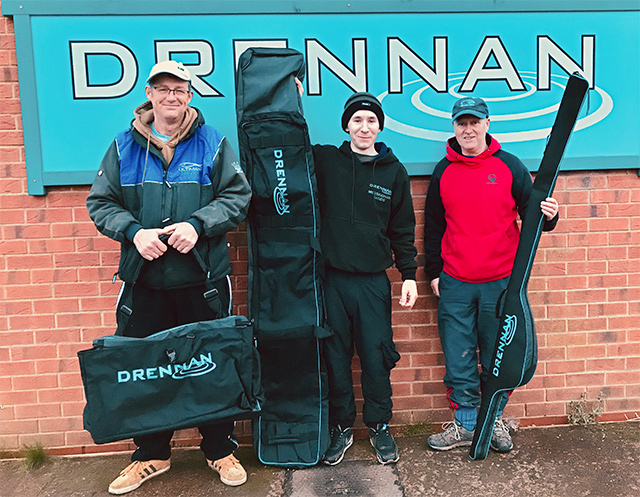 The winner on the day was Graham Mumby with 30lb 7oz from the un-fancied peg 38. Graham went all out for quality fish with worm and caster at 12 metres. Feeding small balls of bait packed groundbait and fishing a piece of worm on the hook,  he got off to a great start with a 2lbs tench and a 3lb perch in the first half hour of the match. A steady run of roach, skimmers and perch for the rest of the match was enough to keep him ahead of the field, although Steve Richardson on peg 51 wasn't too far behind with 28lb 4oz of mainly Skimmers from peg 51.
There were no changes in the overall league positions and Kyle Hartley claimed a well-deserved title. Kyle stuck religiously to his worm and caster approach from the outset of the series and his confidence paid off, catching a really good stamp of fish throughout, consistently beating those around him.
The individual winners of the past three years claimed the top three places, Dave Mountford finishing second and Steve Richardson taking third place.
1st: Graham Mumby (Scunthorpe) – 30lb 7oz
2nd: Steve Richardson (Scunthorpe) – 28lb 4oz
3rd: Carl Swetnam (Rotherham) – 26lb 11oz
4th: Dave Mountford (Grimsby) – 25lb 13oz
Overall League Results
1st: Kyle Hartley (Scunthorpe) – 98 points
2nd: Dave Mountford (Grimsby) – 96 points
3rd: Steve Richardson (Scunthorpe) – 94 points
4th: Pete Riley (Scunthorpe) – 91 points
4th: Paul seed (Grimsby) – 91 points