To win your 50 peg section in the Division 1 National is no easy task but to do it and then cap it off with 20 kilo's of Chub is truly remarkable!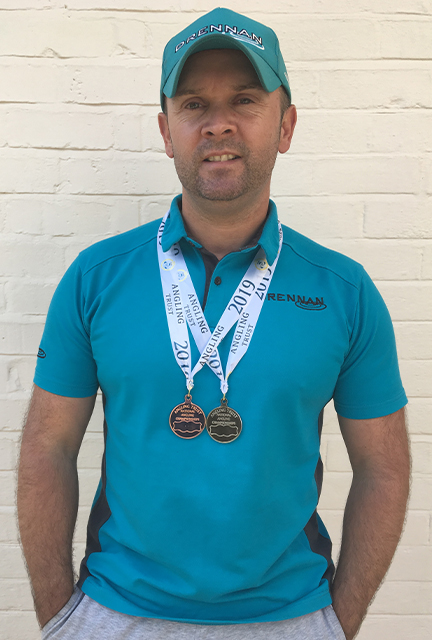 Steve with his individual bronze and team 9th place medals 
Steve explained…
Saturday saw me on the Division 1 National split between the Aire and Calder and the New junction Canal. I was guesting for Scunthorpe Tackle and was handed peg 668 in A section on the New Junction canal. If I'm being honest, it didn't mean anything to me as I hadn't practiced on that section before.
On arrival at my peg it looked inviting, with the canal being about 22mts wide and trees along the far bank for the majority of the section. Given all the rain the day before and the fact this was a team match, I decided on a softly softly approach. Feeding a groundbait line at 6mts in 8ft of water and a hemp line at 7mts just past. Also a chopped worm line at 16mts in 7ft of water and a feeder line tight over. I started the match on the feeder but it was very snaggy and so i soon gave this line up. Dropping onto my groundbait line next I had a quick flurry of small fish. This line faded out quite quickly so I picked up the heavy rig and shipped out to where I had fed my chopped worm expecting a quick bite from a bonus fish. After 15 minutes on it I'd only caught 3 small perch to show for my efforts.
I felt my chopped worm line offered me the best chance of a bonus fish, I just had to workout how to get the fish feeding! Making a quick change I decided to start introducing maggots through a pole pot. The wind was making it difficult to be accurate at that distance with a catapult. The canal was also very clear so I put on a lighter hook length to a size 18 Drennan Carbon Match hook to 0.095mm Drennan Supplex Fluorocarbon. The change was like switching a light on, as almost instantly I was rewarded with a chub! Now I felt confident with my approach I continued to cup 50 maggots in after every bite.
I ended up catching 11 chub and a few more small perch for 20kilos 680grams. This won my 48 peg section and also got me 3rd overall out of the 480 anglers. The team also finished in a very respectable 9th place.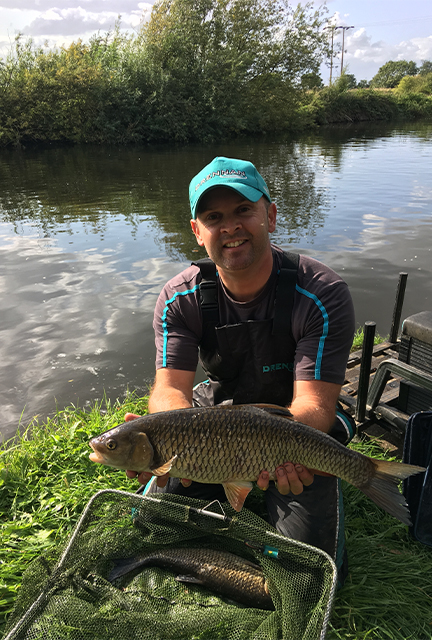 One of 11 pristine canal Chub caught by Steve