At the beginning of July, Lars Christensen ventured to the Swedish lake Ursjön to target one of his favourite species, the crucian.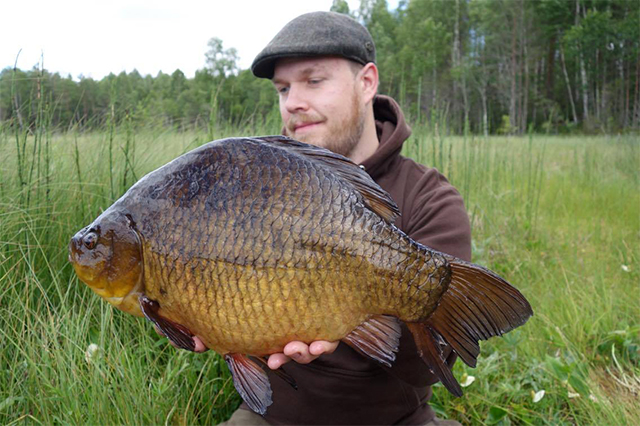 "After a seven hour drive from my home in Copenhagen Denmark, I arrived at the beautiful lake in the midst of the woods and far from the bustling towns and roads. I knew the fishing was going to be difficult, but the rewards would be great.
"I opted for a finely tuned float rig which enabled me to detect the often incredibly shy bites. The float was one of my all time favourites, the Glow Tip Antenna in the lightest version along with the Wide Gape Specialist hooks to present a single grain of sweet corn.
His float rig was fished so that the hook just rested on the silty bottom with the last shot just above. This meant that the crucians wouldn't feel any resistance when taking the bait and the slightest movement of the last shot, which was a No.4, would just lift the float a few millimetres.
"I choose to fish a very small area scarcely baited with ground bait and tiny krill pellets. My rod of choice was my trusty Drennan MK IV Tench Float, which has a wonderful tip cushioning the lunges of the fish and a butt section with enough power to steer big fish away from the lily pads.
"Over the session, I managed to land four beautiful crucians, topped by an incredible fish of 6lb 7oz. It was a truly unreal experience, to handle a crucian of those proportions. To say I was over the moon would be an understatement.
"This fish is the biggest known crucian in the lake and was the former Swedish record. This lake is a truly magical place and it has been an experience of a lifetime to fish it and come face to face with these beautiful creatures."