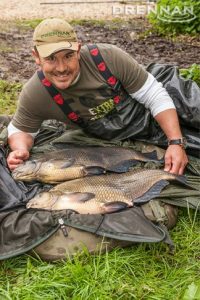 Simon Ashton defied the odds after landing two of only three known specimen bream from Manor Lake on the Linear Fisheries complex.
This great brace consisting of 14lb and 13lb 7oz fish was landed within minutes of each other at the Oxfordshire venue. Both came at dawn after Simon spotted a fish roll and recasting at distance.
Simon caught both fish on helicopter rigs fished on 10lb ESP Syncro XT Loaded main line with large 70g Oval Blockend feeders. His short hook links were made up of 10lb ESP Soft Ghost Fluorocarbon and Boilie Hooks. One rig was baited with worms using a Pushstop and the other with Buoyant Maggots, both great bream baits in their own right.
The biggest of the two bream set a new personal best for Simon, making the long journey south well worth the effort.
Simon commented: "I was gobsmacked when I saw the first giant slab slide over the landing net. There are only three known bream in the lake, so to land two of them in one session is unbelievable!"