Steve Hemingray continued his great form on the Fenland drains with a 25lb catch of roach.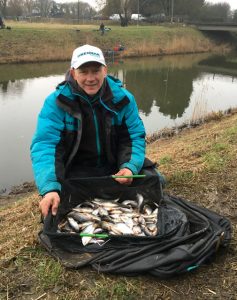 After last week's win, the England ace finished third overall in the 80-peg practice match for the forthcoming Winter League Final. Steve found himself in a noted area between bridges on the 20ft Drain at March.
A 5m whip, groundbait and pinkies were used to tackle the 8ft deep swim, which helped him amass over 300 fish. He used a slim 2g pencil float on 0.11mm Double Strength line to a 0.08mm Fluorocarbon hooklength and Kamasan B511 hooks in sizes 20 and 18.
Second overall was Michael Buchwalder on the opposite bank who had mostly roach plus two big perch in his 26lb catch. Stefan Gent won from the adjacent peg to Michael with an amazing 31lb of very tightly shoaled rudd!