Drennan England international Steve Hemingray collected a £1100 cheque after finishing ninth overall in the Angling Trust Riverfest Final on the River Wye at Hereford with a 29lb 6oz two day aggregate weight.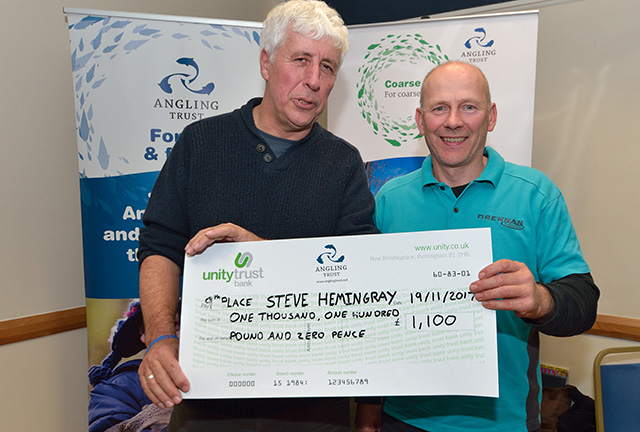 One of 72 finalists chasing a £13000 top prize, Steve drew peg 88 in B Zone one day one where his opening gambit was an 8m Acolyte Whip with a 3gr pencil float.
Around 45 minutes into the match he switched to a running line rig with a 17ft Acolyte Ultra rod to present triple maggot on size 14 Kamasan B520 to 0.011mm Double Strength hook length beneath a 5gr Bolo float on 4.4lb Float Fish main line.
"The stamp of fish on the pole were too small, but the Bolo immediately produced larger chublets, dace and roach. I was heading for 30lb before a bleak shoal entered my peg in the final hour and I just couldn't get past them to the bigger fish," said Steve, who finished with 22lb 2oz.
Despite a much smaller day two weight, Steve reckoned he fished a perfect match for 7lb 4oz at peg 52 to win the entire A Zone and boost him into the top ten prize positions.
"My only major changes on day two were to fish the Bolo further out using a 7m telescopic rod, plus loose feeding maggots on an inside stick float line. I caught in fits and starts on the Bolo but never had a bite on the stick before five big roach for around 3lb in the last hour."
"My top tip for fishing big fast deep rivers like the Wye is to always take enough bait. On day one I fed almost 4Kg of a groundbait and soil mix, four pints of hemp and three pints of casters plus six pints of bronze maggots," he added.