On his first crucian trip of the year, Warrington angler Gary Knowles hit the jackpot with this 4lb 1oz PB..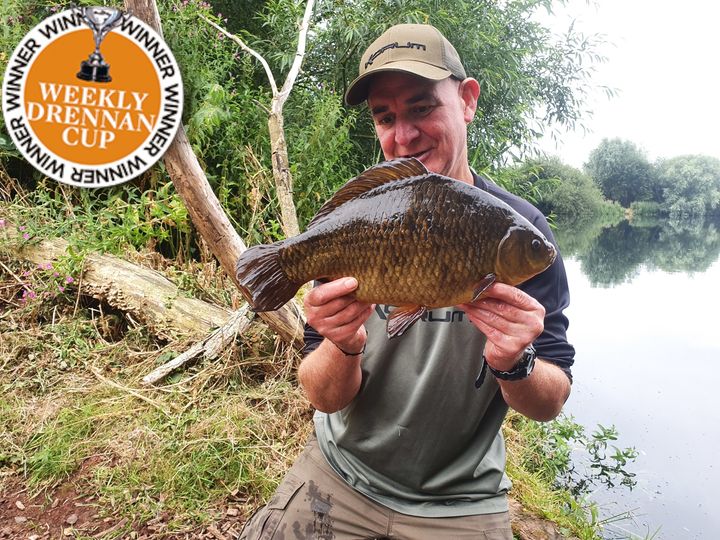 Rather follow the crowds and head south to the crucian Meccas in Surrey, Gary stayed a little closer to home and visited a scenic six-acre Shropshire pool, where he's had good results in the past.
He selected a swim and fed two lines – one out in front, where he'd fish the float, the other down the right-hand margin by some overhanging trees and sunken roots, where he'd drop a Method feeder.
Knowing his window of opportunity was between 11pm and 4am, Gary worked through the night, keeping a steady stream of corn, 2mm pellets and casters going in every 30 minutes, rather than piling in the feed and going to bed.
Just after dark he had a two-pounder on the float, before he noticed a couple of swirls over his right-hand rod. Around midnight, this rod was away, and he landed a cracker of 3lb 10oz. He was happy enough with this fish, but 30 minutes later, after recasting and rebaiting, the same rod was away, with the fish stripping line and convincing Gary he was into a carp. But by the time he had it under the rod tip, it was swimming in the crucian's signature circles, and Gary became extremely nervous when his headtorch illuminated a deep-bodied fish.
Once in the net, he noted that the fish looked 'even bigger', and when it tipped the scales round to 4lb 1oz, he was unsurprisingly happy with his night's work. An 8mm scopex wafter was the winning hookbait, fished alongside Match Mehtod Mix groundbait.
Well done Gary!