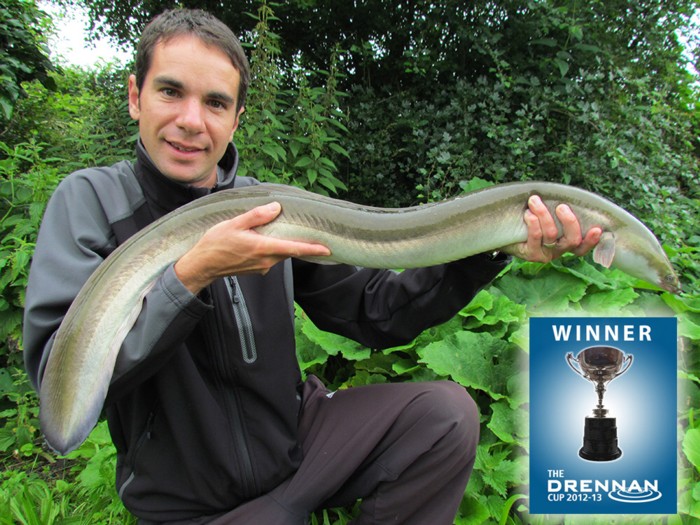 WARMEST CONGRATULATIONS to Norfolk's Gareth Goldson – who has won the 2012-13 Drennan Cup competition, as reported in today's edition of the Angling Times!
Hardy Greys consultant Gareth is seen above with the magnificent 7lb 4oz Eel he caught in July, his 2nd Drennan award of a breathtaking season.  Gareth had got his campaign underway with this gorgeous 3lb 2oz Roach from Lochnaw Castle Loch in Scotland, and then won a further award in late Summer when a sequence of trips to the Fens produced a string of specimen Rudd, culminating in an astonishing catch of 17 x 2lbers to 2lb 12oz!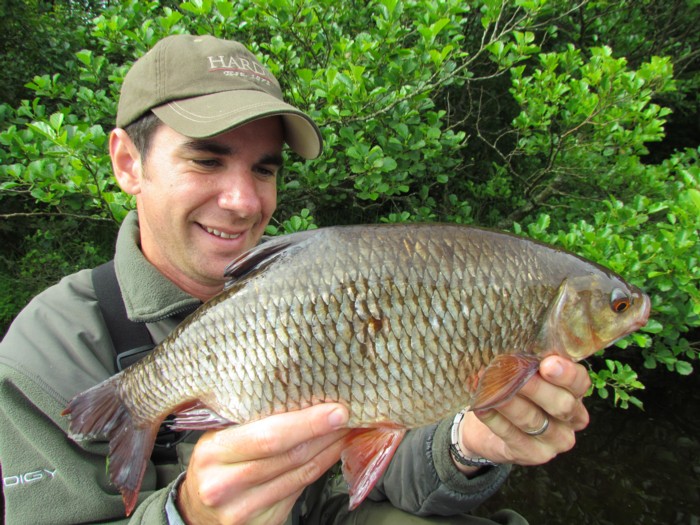 As the calendar moved on into 2013, Gareth worked even harder, with a series of Chub trips to the River Great Ouse eventually producing a sensational trio of big Chub in a session – topped by a huge fish of 7lb 13oz!  He finally earned a 5th weekly award with a series of specimen Perch captures, including two different 4lb river specimens, again from the Great Ouse.  What a season!
Gareth will soon be visiting Drennan HQ to be presented with the trophy by Peter Drennan, and collect his £2000 winner's cheque!
Also, a big well done to Steve Ricketts in 2nd, whose stupendous catches of truly monster Eels almost brought him the cup.  Steve's season included a historic brace of Anguilla at 9lb 13oz and 9lb 1oz – helping him to the runners up spot and a cheque for £1000.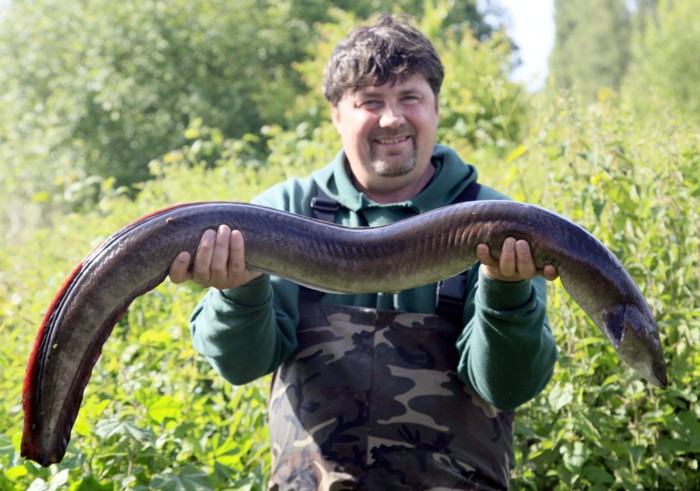 3rd place went narrowly to Simon Buckman from Sussex, who managed specimen Barbel, Roach and Perch – all from local Sussex venues, a most deserving 3rd place £500 cheque winner.
And finally, Peterborough's Nigel Bryans amazing catch of 3 x 16lb Barbel in a trip to the River Nene earned him 4th place and the £250 prize.
The Drennan cup result is voted for by the cream of UK specimen anglers – all past weekly winners of Drennan Awards – making it the fairest and most important specimen angling competition running.