Drennan Bordon's Peter Kay reports back from another eventful week competing on the Pole Rigs Silverfish Festival at Stafford Moor.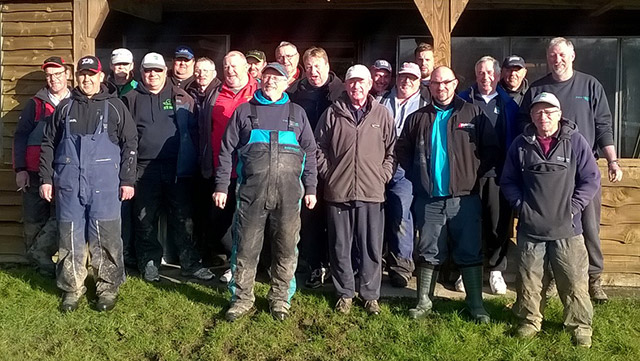 Well it was that time of year again to head off down to the lovely Stafford Moor in Devon in the delightful company of owners Paul and Jo for the Pole Rigs Silverfish Festival. Some of these blokes I have known for 35 odd years and it's good to meet up and talk cobblers.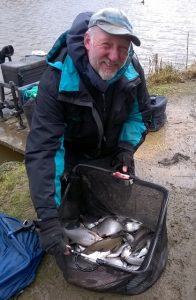 If you have never been to Stafford Moor for one of the carp of silvers festivals put it on your bucket list as it's worth going for the local pub hospitality alone.
Terry Golding was ably organising from the side lines this year due to a hip replacement, but the format was pretty much the same, with practice days on Sunday and Wednesday and all the other days counting. One difference this year was that the top eight going into the last day would fish the same lake/section, with the next eight and last eight likewise.
As far as the actual footing goes it's mostly skimmer fishing with a few roach and tench thrown in. Choppy or 4mm pellets over micros/groundbait works well, with a bit of wag and mag in areas. You also need to try and avoid the nutty carp!
The Sunday practice match saw me on peg 2 on Tanners Lake, a really poor draw. I didn't weigh in 2lb – but probably hooked 70lb of accidental pigs with fins (carp!). A poor start and more importantly nothing learnt. Enough said.
Day One proper and peg 2 on Willow was my destination. This is a new lake to us so we were all fishing blind (some might say this is the norm!). It was slow on the long pole so I swapped to wag and mag, fishing 2ft deep and had 15lb of 2oz roach, which was really enjoyable. A funny thing happened during the day when my 3AAA Drennan insert peacock waggler broke in half (well it was about 20 years old, and I'm not kidding!). I slipped an identical one on and immediately started missing bites and bumping fish where I hadn't done so previously. This time wasted sorting it out almost certainly cost me the section. I ended up 3rd. Not a disastrous start, but improvement was needed.
Day Two and I drew peg 9 on Tanners. A proper flier! I fished two lines long; one with groundbait and the other with micro pellets and caught hand-sized skimmers slowly all match. Every time it went quiet I changed the feeding pattern slightly and bingo off we went again. It was a real easy match. Aren't the wins always like that?
I ended up 1st in section and 1st overall on the day with 18lb 14oz and was back on track. Gareth Hawley by now had accumulated two section wins, so time to get out the special powder for Gareth's pint later!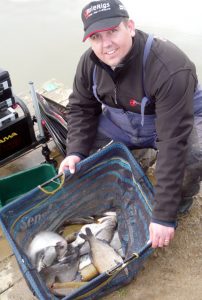 The Wednesday was another practice match and the weather was so bad we actually called it off. In 40 years of fishing I have never seen this before but 70mph winds across the whole complex made it impossible to fish. So a day on the razzle was organised…
Day Three, and I was on peg 5 on Willows which had done well all week, so off I went with eager anticipation. Unfortunately, I couldn't make anything work. There is a sunken island in this lake and this peg cannot reach it. Even on the waggler you end up fishing 5ft deep when everybody else is 2ft. Yes, a poor excuse I know. I ended up with 7lb and was 2nd from bottom in the section. My bottom lip dropped and I knew I had blown it. The defining point was when I pulled out of a 3lb bream at the net. It went and told its mates to stop sitting in front of the numpty.
So last day and a chance to redeem myself. All the first-tier of also rans were in the same section so it was still possible to sneak something. I drew Peg 20 on Woodpecker. It's a really good peg that I love fishing, but all week it had strangely come in the bottom two of the section. I wasn't having that and even if I do say so myself fished a good match to finish 2nd on the lake with 9lb odd (Yes, it's a rare thing nowadays! I could ramble on at this point like Uncle Albert from Only Fools & Horses, "During the war, Rodney" but I'll spare you!). The very good Dan Diment winning the lake with 21lb he really excels at this type of fishing.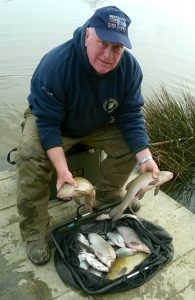 Gareth had won the super section with an impressive 26lb on Tanners 36 to wrap up the league and a very popular win. Yours truly ended up 4th again!
I attach the top six below you may notice a couple of real stars in there in Andy Love and Kenny Farrell. Both, let's be fair, are getting on in life but still competing at a very good level. I hope I'm that good when I'm 70. In fact, I just hope I'm still going when I'm 70!
I look forward to this event every year, but doesn't time fly then it's over and done with for another year. Roll on next year!
Result:
1st Gareth Hawley, 29pts (65lb 1oz)
2nd Ken Farrell, 27pts (51lb 14oz)
3rd Dan Diment, 24pts (49lb 4oz)
4th Peter Kay, 23pts (50lb 8oz)
5th Andy Love, 23pts (46lb 0oz)