Weather conditions once again made the fishing match something of an endurance test for the competitors in the second round of the Silverfish Spring League which was fished on Saturday on Tripp Lake.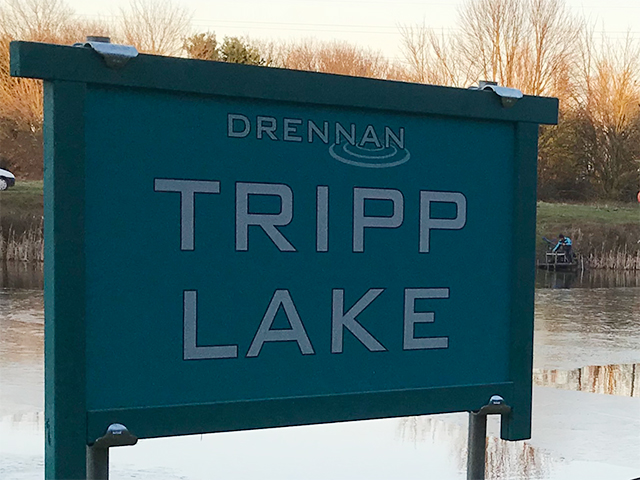 Arriving to find the lake frozen over, a pre-match ice breaking session was quickly followed by strong winds and driving rain, not exactly the conditions one would associate with great fishing conditions.
However, those anglers drawn on the North bank of the lake found themselves playing carp for most of the day, whilst trying to catch enough fish that counted to justify weighing in at the end of the match.
Tommy Grice was drawn on peg 31 which has produced a number of 100lb plus weights of carp in the past few weeks and he was into them from the off. Fishing 6mm expanders through the ice, just 3 feet deep in 12 feet of water, it was a bite every drop in and to his credit, he stuck with it to win the match with 36lb 10oz of F1s, despite returning over 100lb of carp.
Carl Swetnam had an even more frustrating day on the peg next door, landing over 30 carp to 8lb. This would probably have given him the biggest match weight of the winter so far had they counted. However, he only landed 15lb of silvers in between.
Dennis Pattinson managed to avoid the attention of the carp on peg 4 on the opposite bank and put together a lovely net of quality roach weighing 29lb by employing his usual tactic of feeding heavily with maggots.
Strangely enough, the following day the Sunday Winter league match which was fished on the same pegs saw no carp were caught, and on a day when they would have counted!
1st: Tommy Grice (Doncaster) – 36lb 10oz
2nd: Dennis Pattinson (Grimsby) – 29lb 4oz
3rd: Graham Mumby (Scunthorpe) – 22lb 13oz
4th: Luke Harrison (Crowle) – 22lb 11oz