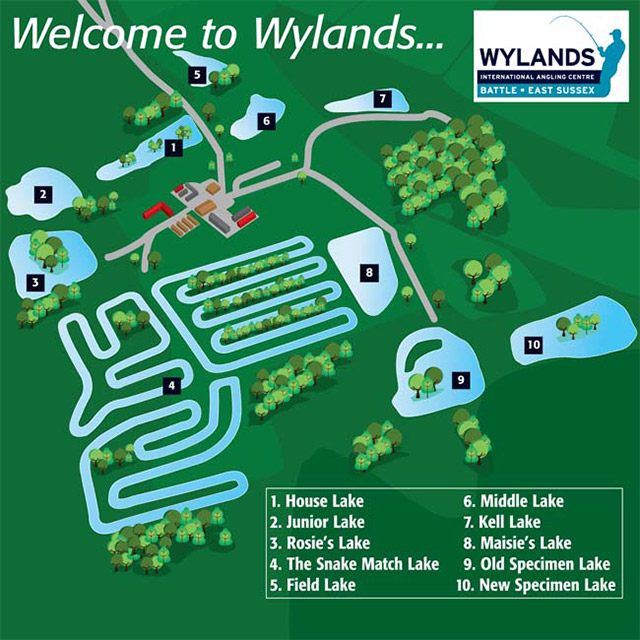 Wylands International Angling Centre is widely regarded as one of the UK's best fisheries and is the perfect location for your next fishing excursion. It is set in 154 acres of woodland and just two miles from the historic market town of Battle.
With nine attractive lakes set in the historic '1066' countryside, Wylands caters for all anglers, from the novice to the specimen hunter. It is one of the most popular venues in East Sussex, with private lakes offering year-round day and night ticket fishing and caters equally for specimen, match and pleasure fishing.
Anglers and their families also have a choice of holidaying chalets, static caravans or the touring and camping park, all beautifully situated in a delightful countryside setting.
With great facilities including an on-site snack bar and tackle shop, luxury accommodation and friendly expert advice it's an ideal place for a fishing holiday.
Lakes:
Field – Stocked with a large number of small carp, Field Lake is ideal for introducing young people to angling for the first time. This one acre lake is nicely tucked away at the entrance to the complex and often produces a fish a cast. There is also a nice head of roach and rudd. Beginner coaching sessions are held on this lake in the summer.
House – This two acre lake is one of the most popular waters and ideally located close to the Snack Bar, Tackle Shop and reception. It has three islands which the carp regularly patrol. The Carp reach 28lb and the lake is also home to barbel, tench and a good head of roach and skimmer bream. Floating baits work well in the summer. There are also four disabled swims on this lake.
Kell – The most difficult lake on the complex but holds some of the biggest fish. Beautifully secluded in a wooded area of the complex and mimics an old estate lake. Stealth and quiet is the key, along with fishing close to the margins. If the fish are on the surface they will be very difficult to catch, although the occasional specimen comes out to this tactic.
Maisies – A three acre water dedicated to catfish up to 70lb, but also holds roach, rudd and some carp that have never been caught. This old stock pond averages 5ft to 6ft and has eight purpose built swims. Booking is essential for this popular water.
Middle – Spanning nearly two acres the Middle Lake is one of the most productive with carp up to 27lb 8oz. For non-carpers, there is also a good head of silverfish, including roach and rudd to 2lb and perch to 3lb.
New Specimen – A two acre lake with an island offset to one side. It has been extensively reworked, including the clearing of the over grown island, new swims and wood chip paths. The lake record stands at 32lb for carp with many doubles to mid-20s also possible.
Old Specimen – A round three acre water adjacent to the New Specimen Lake at the bottom of the complex. It holds a large head of carp averaging 8lb to 10lb with fish up to 29lb possible. A very prolific water and catches of up to 30 fish in a 24 hour session are not uncommon.
Rosies – This two acre lake is perfect for beginners and pleasure anglers. It is fringed with reeds and lily beds with an island at one end. Also suitable for the disabled angler due to the easy access. Contains a good head of tench, roach, perch, chub, carp, crucian carp, rudd and bream – there has even been a 19lb grass carp caught! Responds well to float and feeder tactics year round with good surface fishing in the summer.
Snake – Extensive works are being carried out on the famous two-mile long Snake Lake. 'New Snake' is currently unavailable for fishing, with matches currently being held on the 'Old Snake' which can accommodate 65 pegs. The lake holds regular opens on a Sunday and is also available for club bookings and for hire by organisations and charities.
Species: Carp, grass carp, crucian carp, catfish, tench, bream, roach, rudd and perch
Extra Information:
The Tackle shop has re-opened as Jed's Bait Shack, open seven days a week. Telephone 07393 427234 for shop enquiries.
Weyland's extensive accommodation includes chalets, static caravans and a touring and camping park. Facilities include toilets, showers and a lakeside cafe/snack bar.
Ticket Prices: (Please note, winter special prices are also available up to March 31st. Please consult the fishery for details)
Day Tickets 2 rods (7am – 7pm) – Adult £15, Senior £11, Junior (12-17 years) £11, Child (Under 12) £5, Extra Rods £6
Night Tickets 2 rods (7pm – 7am) – Adult £15, Senior £11, Junior (12-17 years) £11, Child (Under 12) £5, Extra Rods £6
24 Hour Ticket 2 rods (from the point of arrival) – Adult £25, Senior £20, Junior (12-17 years) £20, Child (Under 12) £5 (must be accompanied by a full paying adult), Extra Rods £6
Half Day Ticket 2 rods (7am – 1pm / 1pm – 7pm) – Adult £78, Senior £6, Junior (12-17 years) £6, Child (Under 12) £5, Extra Rods £6
Week Tickets £75
Season Tickets: Please consult the fishery
Rules: Please consult the fishery
---
PLEASE NOTE: The above information is subject to change. Please contact the fishery for the most up to date prices, opening times, rules and other information.
Contact Details:
Address:
Wylands Farm
Powdermill Lane
Battle
East Sussex
TN33 0SU
Office: 01424 893394
Bailiff: 07774 383026
Tackle Shop: 07393 427234
Website: www.wylands.co.uk