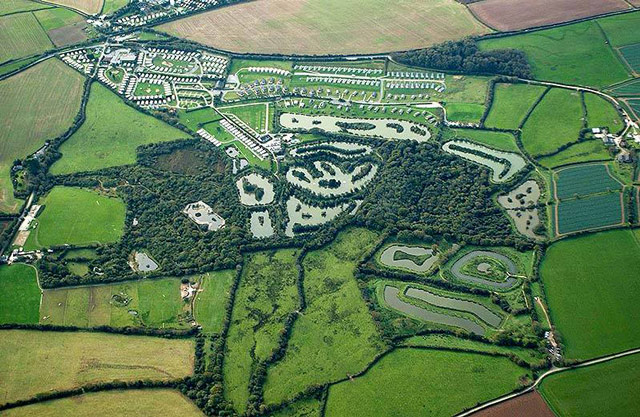 With over 300 pegs, and 13 well-stocked lakes full of everything from roach and rudd to carp and catfish, White Acres is not surprisingly one of the UK's premier fishing destinations. This popular holiday park is set in 184 acres of beautiful Cornish countryside and caters for match, pleasure and specimen anglers.
There is also an on-site tackle shop, accommodation, cafe, a calendar full of fishing festivals, fun and competitive weekly resident's matches and expert tuition and expert advice on hand.
There are holiday homes for every party size and budget, which are all close to the 13 tranquil lakes. All of the accommodation comes complete with a tackle locker, and beds are made up on arrival, so you can get straight out and hit the lakes!
White Acres Holiday Park has become the ultimate resort for anglers and their families.
Lakes:
Pollawyn (53 pegs) – This 3.5 acre lake (sometimes also referred to as Match Lake) is one of the oldest and most popular pools on the complex. Depths range from 3 feet in the margins to 9 feet on the famous 'high bank'. Carp range from 2lb to 20lb, so substantial tackle is needed. 100lb weights are not uncommon. There is also a huge head of silverfish including roach, bream and skimmers and quality perch to over 3lb.
Python (37 pegs) – A snake-style lake with a bay at one end. Average depths are 6 feet down the middle to 3 feet in the margins. It has a good stock of carp, F1s, tench, skimmer bream, crucians, roach, rudd and perch, so bites will be plentiful.
Jenny's (52 pegs) – A shallow, 5 acre lake which is ideal lake to take younger anglers to, as you can get bites all day on the pole at 4m. Bigger fish come to the waggler, lead, or feeder out towards the island. Average depths from 4 feet to 6 feet.
Trelawney (32 pegs) – This 2.3 acre lake is designed for the waggler, feeder and pole. Approximately 20m wide. Depths range from 3 to 7 feet with plenty of fish in the margins in warmer weather.
Twin Oaks (36 pegs) – These two lakes are both 25 metres wide and 6 feet deep, sloping at 45 degrees towards either bank. They respond equally well to short pole, long pole, margins, feeder or waggler. Both contain a mixture of species but the first lake (pegs 1-18) is famous for its huge head of carp averaging 4lb to 8lb and the second lake (pegs 19-36) holds a more prolific head of F1s.
Sycamore (22 pegs) – This attractive 1.5 acre lake has two islands and lots of marginal features. Contains lots of care as well as a good head of silverfish and even the occasional surprise barbel.
Eery (14 pegs) – Eery is approximately one acre in size, 7 feet at its deepest and only 18 inches in the margins. This lake was totally changed in 2009 and restocked with plenty of small carp. Watch out however, as there are a few larger residents amongst them!
Canal (20 pegs) – Ideal for pole fishing and close range float work, canal has a massive head of F1 carp as well as normal carp and silverfish to ensure there are plenty of bites to be had.
Acorn (19 pegs) – This oval lake is 1.5 acres with one big island in the middle which can be reached with a feeder from most pegs. Depths range from 6 feet in the middle with a shelf around 4m out, which is a good target area for the carp, F1s, roach and skimmers. The carp love the margins on this lake in the warmer months.
Pat's (22 pegs) – The main specimen lake with carp from 10lb to 33lb and many catfish from 5lb to 74lb. Depths average from 3 feet to 7 feet down the dead arm on this 2.2 acre lake.
Nelson's (24 pegs) – Another specimen lake of approximately two acres with carp to 28lb, ghost carp to 27lb and catfish to 50lb. Best results are late evening, night and early morning.
Species: Carp, F1s, crucians, barbel, tench, bream, rudd, roach, perch and catfish
Extra Information:
Polkerris Bar, Pizzeria and Grill on site serving excellent food and drink
First Bite Lakeside Café for breakfast and snacks
Gym and swimming pool also on site
Tackle Shop opens daily from 8am
Day Ticket Prices:
Residents only. Call the reservations centre on 0844 335 3569 for all booking enquiries, or email

[email protected]
Rules: Please consult the fishery
---
PLEASE NOTE: The above information is subject to change. Please contact the fishery for the most up to date prices, opening times, rules and other information.
Contact Details:
Address:
White Acres Holiday Park
White Cross
Newquay
Cornwall
TR8 4LW
Telephone: 01726 862519 and 0844 335 6784
Website: www.news-reel.com