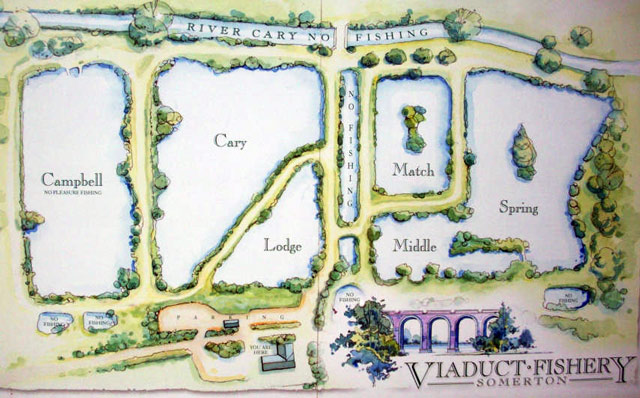 Viaduct Fishery consists of six well-stocked lakes nestled in the beautiful Cary Valley in the heart of Somerset. The venue was constructed in the early 80s, ensuring it is well-established and mature with tree covered islands, lily beds, gullies and many marginal features.
The stock is varied with quality carp from 2lb right up to 28lb and with plenty of fish averaging 6lb to 10lb, strong gear is a must! There is also a healthy stock of bream and skimmers, lots of tench, quality perch, rudd, roach and even the occasional chub. This ensures there are always plenty of bites to be had throughout the year.
Most of the lakes average just 3ft to 5ft, which makes float fishing with a pole, waggler or pellet waggler really comfortable. These lakes also respond well to legering, especially with the bomb and 8-10mm pellets or meat, depending on the time of year.
The fishery has paths all the way round with 136 timber platforms, plus plenty of safe car parking and disabled access.
The veranda fronted clubhouse includes a cafe with a fully stocked tackle and bait shop and toilet block.
Several luxury wooden lodges are also available which offer attractive lakeside accommodation.
Lakes:
Spring & Middle (Pegs 1-27 & 28-38) – The orginal coarse lakes, joined by connecting gullies, with plenty of features. Some regard this as the 'specimen lake' due to the large head of carp, with numerous carp in excess of 20lb. These lakes also have an impressive head of silverfish, especially bream, skimmers and perch, which provide incredible winter catches when the carp sport slows.
Match Lake (Pegs 39-52) – This lake

 provides busy sport thanks to the large head of

medium sized carp and F1s that always seem willing to feed.

Casting tight to the central island will provide plenty of

action, but don't ignore the corners. The reed-fringed margins can

be stacked with fish! There is a good head of

quality bream, tench, roach and perch.

Lodge (Pegs 53-73 – )

Lodge Lake is situated just in front of the club house and contains some impressive carp 

from 2lb to 22lb. The

willow lined corners always hold plenty of fish during the

summer and winter. The wider central area is also a worthwhile

'hot spot' for silverfish.

Cary 

(Pegs 74-109) – Possibly the

 most popular lake at Viaduct and often called 'Scary Cary' due to the huge head of h

ard-fighting double-figure carp averaging 10lb and running to 24lb!

 Also home to a large head of tench to 5lb, plus specimen

 perch to around 4lb

! 

Campbell – 

(Pegs 110-136) 

Campbell is a match-only water and full of 4lb to 10lb mirrors and

commons. It has produced hundreds of ton-up match weights, with colossal weights to 300lb possible on the right day.

 Silverfish stocks are

similar to Cary, with quality perch, tench and bream. 
Species: Carp, tench, bream, roach, rudd, perch and tench
Extra Information:
EA Rod Licences can be purchased 

from the shop

Luxury, fully fitted, lakeside wooden lodges are available for hire
Day Ticket Prices:
Adults: 

£8; (2 rods) £10

Juniors: (under 16) £5; (2 rods) £7

Concessions (65 and over/registered disabled) £6; (2 rods) £8

Evening tickets (times vary): £6; (2 rods) £7
Rules: Please consult the fishery
---
PLEASE NOTE: The above information is subject to change. Please contact the fishery for the most up to date prices, opening times, rules and other information.
Contact Details:
Address:
Viaduct Fishery
Cary Valley
Somerton
Somerset
TA11 6LJ
Telephone: 01458 274022
Website: www.viaductfishery.com