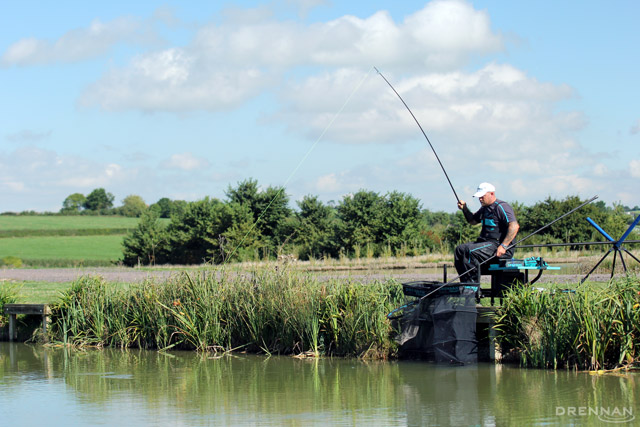 Todber Manor Fisheries is set in the heart of the Dorset countryside and home to some of the finest carp and coarse fishing in the South West.
On-site there are 11 lakes including four specimen carp lakes, a runs water and six match/pleasure fishing lakes. The lakes are well known for their carp fishing but they also provide one of the few places in Dorset to catch a catfish.
There is also a well-stocked on-site tackle shop, plus eight self-catering holiday cottages and a 5 CL site to provide the ultimate fishing holiday.
Lakes:
Ash – A firm favourite among Todber Manor's local anglers, Ash is around 1.5 acres and averages 25m wide with 14 pegs. Ash boasts a massive head of small carp from 1-3lb but they run up to and over double figures. Also home to quality tench and bream to over 6lb.
Hill View – Around 2.5 acres with two islands and holding 28 pegs. Hill View accommodates all disciplines of coarse angling. The carp angler can sit behind bite alarms fishing for the decent numbers of carp between 8lb and 12lb, while the match/pleasure angler can use feeder, waggler and pole tactics to bag up on the huge head of small carp, tench and bream.
Homeground – Around an acre in size with two small islands and 15 pegs. This is one of the more densely stocked waters with thousands of small carp ranging from 1lb to 5lb and the odd surprise weighing in at over 10lb. Also a good head of small tench, bream, roach and rudd.
Big Hayes Specimen – An 8 acre specimen carp water holding approximately 800 carp, including at least 80 different 20lb+ fish, with the lake record currently being 34lb. 18 easily accessible gravel swims, the majority of which has its own parking bay. Also some cracking pike fishing during the winter months with specimens to over 25lb.
Little Hayes Specimen – 6 acres and stocked with approximately 700 carp ranging from 10-30lb. The lake boasts 15 gravel swims that can be easily accessed from the surrounding track.
The Paddock Specimen – 2 acres with seven easily accessible gravel swims. The lake has been stocked with a good head of catfish between 20lb and 50lb and in excess of 80lb. There is also a good head of carp present with the average size being over 20lb, and the lake record standing at over 34lb.
Wadmill – A 4.5 acre well-stocked runs water providing plenty of action and excitement for anglers of all abilities. There are 31 wood-chipped swims and the current lake record is 26lb. A big head of pike is also present which run to over 20lb, along with bream to 10lb and perch to 3lb.
Willow Bank – 3 acres in size with 10 gravel swims and is fished from one side only. Stocked with around 250 carp ranging from low doubles to just shy of 30lb.
Whitepost Lakes – The two lakes at Whitepost hold a big head of carp from 1-5lb with a few a few larger fish to 12lb. The lakes provide action for anglers looking to get an instant bend in their rod. Small tench and crucians also add to the enjoyment of fishing in a totally relaxing and picturesque environment.
Firs – This six-peg lake offers superb fishing with carp to over 10lb, tench to 5lb, specimen perch to over 3lb, plus bream, roach and rudd.
Species: Carp, catfish, tench, bream, roach, rudd and perch
Extra Information:
Pre-booking is advised for specimen lakes
Large on-site tackle shop stocking tackle and bait from all the major brands
Eight self-contained holiday cottage with a fully fitted kitchen, living/dining room and modern facilities.
5 CL site for caravan club members and offers hard standing and part grass. All five pitches have electric hook ups, access to a shower block with a shower, toilet, washing machine and tumble dryer.
Day Ticket Prices: Please consult the fishery
Opening Times: Dawn to dusk
Rules: Please consult the fishery
---
PLEASE NOTE: The above information is subject to change. Please contact the fishery for the most up to date prices, opening times, rules and other information.
Contact Details:
Address:
Todber Manor Fisheries
Todber
Sturminster Newton
Dorset
DT10 1JB
Telephone: 01258 820384
Website: www.todbermanor.co.uk