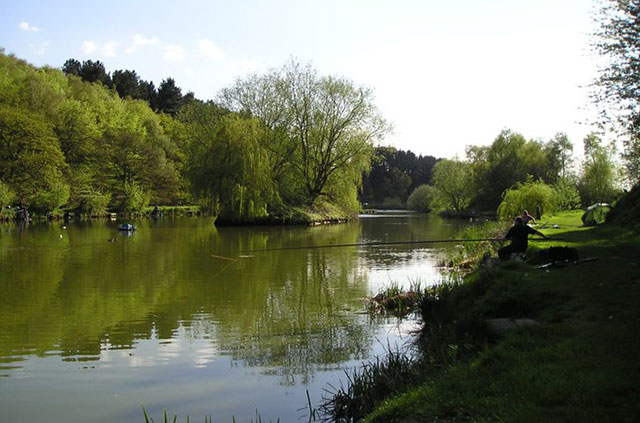 Sherwood Forest Fishery is a mixed species venue nestled in the historic Nottinghamshire countryside. There are five lakes totalling 185 pegs, set in 20 acres of Sherwood Forest alongside the River Maun.
The lakes are far away from the madding crowd and each offer something different to cater for all angling needs.
There are also regular open matches every Wednesday, plus Sunday opens from October to May. The lakes can also be booked by fishing clubs.
Lakes:
Cavendish (20 pegs) – Approximately one acre and 60 m wide with fishing from one bank only. Peg 1 is the deepest end at about 4ft and the shallowest pegs at the opposite end are 2ft. A mixed species lake containing big roach, bream, perch, tench and carp.
Sherwood (61 pegs) – A five acre S-shaped lake with 61 pegs and fishing from both banks. Depths average 4ft to 5ft. There are 15 different species stocked, including carp to 20lb, tench, ide and bream.
Holmedale (56 pegs) – An irregularly shaped lake with lots of features and islands to fish to. Depth range from 2ft to 5ft. Stocked with carp to 12b, roach, bream and skimmers. All methods catch on this lake and there have been several 200lb+ match weights recorded.
Maunside (20 pegs) – A 11 to 13 metre wide strip lake which is 5ft in the middle and shelving up at either bank. Contains carp, chub, barbel and ide amongst other species.
Langdale Channel (30 pegs) – An oval shaped strip pond accessed bt a small foot bridge. Fishing is from the island in the middle. Widths are 10 to 12 metres with an average depth of 4ft. Lots of species including carp, chub, barbel, ide, tench and crucians.
Species: Carp, chub, barbel, tench, crucians, bream, ide, roach and perch
Extra Information:
There are six large car parks offering easy access to most pegs
Disabled parking possible at most pegs
Year permits on request
Day Ticket Prices:
Adults: One rod £7; Two rods £10
OAPs: One rod £5; Two rods £7
Juniors Under 16: One rod £5; Two rods £7
Rules: Please consult the fishery
---
PLEASE NOTE: The above information is subject to change. Please contact the fishery for the most up to date prices, opening times, rules and other information.
Contact Details:
Address:
Sherwood Forest Fishery
Lamb Pens Farm
Edwinstowe
Mansfield
Nottinghamshire
NG21 9HL
Telephone: 07721 316334
Website: www.sherwoodfishery.co.uk