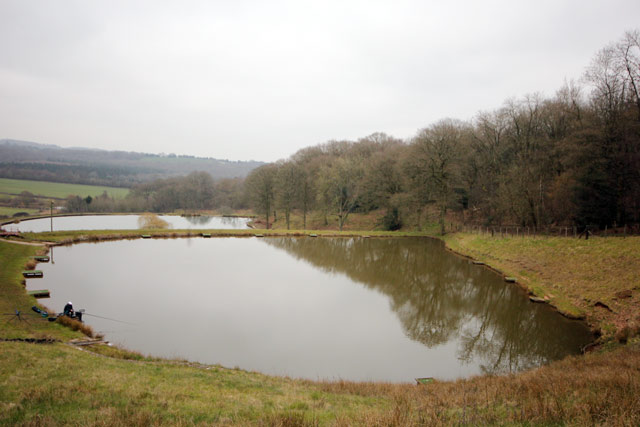 Shatterford Lakes is a premier angling venue set within 25 acres of idyllic Worcestershire countryside and only three miles away from Kidderminster. The six fishing lakes are all interlinked by fresh natural spring water flowing from the hills into the valley below.
The fishery itself provides perfect fishing conditions for beginners as well as a challenging but rewarding experience for angling enthusiasts who could potentially land catfish over 70lb+, carp over 42lb and an abundance of good sized silvers, including roach up to 3lb and bream over 10lb.
The venue is run by professional angler and top matchman Grant Albutt and his wife Nicola, along with a small dedicated team, providing a welcoming presence to this unique venue.
Lakes:
Stella – Predominantly a silverfish pool with depths up to 14ft, Stella produces some excellent sport with lots of roach up to 3lb, bream to 8lb and carp well into double figures. Good results are achieved near the margins and casting to the central sunken island.
Wyre Dell – Now converted to a general coarse lake, Wyre Dell holds carp up to double figures, along with a wide range of silvers, making it an ideal small match or corporate event venue (maximum 15-16 pegs).
Stuarts – The largest of the pleasure pools, Stuarts offers a few surprises, including good sized catfish to nearly 40lb and carp to 25b. The roach go to 3lb, bream to 11lb and there are even golden tench to 9lb.
Erics – The number of specimen fish swimming in this lake is still a mystery but it is known to hold catfish to over 60lb and carp to 40lb and lots of fish between 15lb and 25lb. Zig rigs do well from November to February. There are also loads of silverfish with 60lb+ weights of roach, bream and hybrids on pole, feeder or slider.
Masters – Another largely unknown quantity with carp banked to 42lb. Masters contains several impressive commons to 32lb that have rarely been banked. The biggest catfish is rumoured to be more than 80lb, and these fish love meat and halibut pellets. Zigs are also very popular for the carp because of the vast depths.
Species: Carp, grass carp, tench, bream, roach, rudd, perch, pike, catfish
Extra Information:
On-site tackle shop stocking major brands
On-site cafe
Single and group coaching and corporate days are always available, please ring for details.
Open throughout the year, 7 days a week, including Bank Holidays, with the exception of Christmas Day and Boxing Day.
Rod numbers are strictly limited to avoid over-crowding and pre-booking is advisable on both Erics and Masters.
Wyre Dell & Stella Lake Day Tickets 
Stuart's Lake Tickets: 
Day Ticket: £15
24 Hours: £32
36 Hours: £44
72 Hours: £85
96 Hours: £100
168 Hours (1 Week): £145
Erics & Masters Lakes Tickets:
Day Ticket: £20
24 Hours: £35
36 Hours: £45
48 Hours: £60
72 Hours: £90
96 Hours: £115
168 Hours (1 Week): £160
Rules: Please consult the fishery
---
PLEASE NOTE: The above information is subject to change. Please contact the fishery for the most up to date prices, opening times, rules and other information.
Contact Details:
Address:
Shatterford Lakes
Birch Bank
Bridgnorth Road
Shatterford
Near Kidderminster
Worcestershire
DY12 1TW
Telephone: 01299 861597
Website: www.shatterfordlakes.com