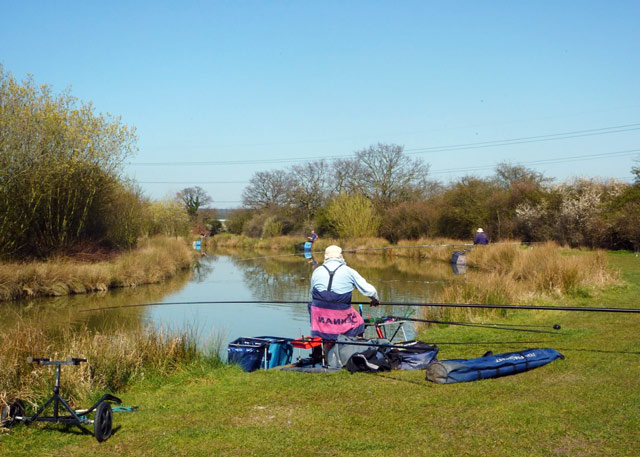 Puddledock Farm Fishery was created in 1997 and is set in 28 acres of mature pastureland. The fishery is only two minutes from the M25 and conveniently located between the towns of Upminster, Brentwood and South Ockendon, East London.
The four lakes at Puddledock have been created to offer a good mix of species and varied habitats. The owners at Puddledock always strive to keep a clean and tidy well kept site with friendly staff who do their best to advise when asked.
There is also a 60 seater cafe and modern toilet facilities. All swims have a slabbed platform for comfortable fishing. It is a particularly flat site, making access for the elderly and disabled very easy.
Puddledock Farm is also the home of the popular Ockendon Bait & Tackle. This shop stocks all major brands of tackle to cater for all angling requirements, with fresh bait also available daily.
Lakes:
Snake (100 pegs) – Designed as a purpose built 100-peg match lake, the Snake is approximately 14 metres wide and 1.5 metres deep. The pegs are 13 metres apart on average with established reed and rushes on near and far banks. The lake holds regular open matches every Sunday and Wednesday and the winning weight regularly tops the 100lb mark. Species include carp to 20lb, bream, tench, chub, roach, rudd, crucians and brown goldfish. Pleasure anglers also enjoy this lake as there is usually a secluded, peaceful spot with a chance of some hard-fighting fish.
Road (30 pegs) – A mixed-species lake and probably the most popular at Puddledock with lots of options and close proximity to both car parks. It has one long island up the centre, 20 metres from the bank, with depth roughly 1.6 metres, lending itself to waggler and feeder fishing. Popular with clubs and pleasure anglers with pole, feeder and waggler all scoring.
Wood – Puddledock's specimen lake with an established wood backdrop. Almost carp only with a good head of fish in the 12lb to 18lb range, but also bigger specimens up to 30lb. There are also lots of smaller home-bred carp in Wood Lake that can be good fun for a junior while mum or dad seeks the specimen!
Islands (24 pegs) Created to satisfy the carp bagging enthusiast, Island Lake is n attractive carp-only lake at the quiet end of the site with established hedgerows and flanked by a stream and dense woodland. Carp from small samples to 18lb specimens are the target.
Species: Carp, crucians, brown goldfish, chub, tench, bream, roach, rudd and perch
Extra Information:
Open 363 days per year from 7.30am until sunset.
No night fishing.
60 seater cafe
Fully stocked Ockendon Bait & Tackle shop on site.
Day Ticket Prices:
Adult: £9 (£3 extra rod)
OAPs & Concessions: £6
Children under 16: £6
Rules: Please consult the fishery
---
PLEASE NOTE: The above information is subject to change. Please contact the fishery for the most up to date prices, opening times, rules and other information.
Contact Details:
Address:
Puddledock Farm Fishery
St Mary's Lane
Upminster
RM14 3NX
General Enquires: 07788 716837 or 07860 345693
Ockendon Bait & Tackle: 01708 572166
Lakeside Café: 01708 229393 or 07712 376757
Website: www.puddledockfarmfishery.com