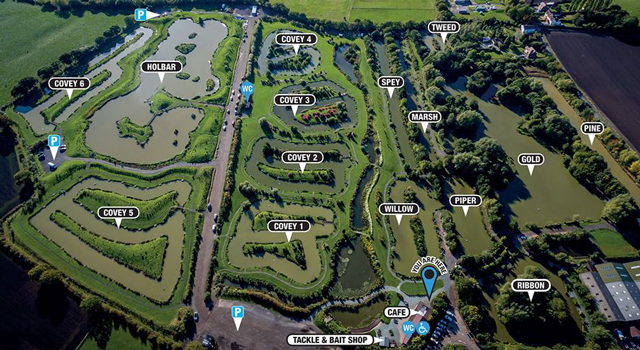 Partridge Lakes is set over 70 acres with 394 pegs across 15 waters. Each lake has been individually landscaped to provide a fantastic day's coarse fishing for all, including open match anglers, club match anglers, specimen anglers and pleasure anglers of all levels.
It is arguably the most popular coarse fishery in the UK and one of the leading commercial match fishing venues in Europe. Day ticket fishing is available on some of the finest waters in the North West and yearly membership is also available on the exclusive and prestigious Gold Lake.
The established waters are heavily stocked with quality carp, chub, bream, roach, perch, rudd, barbel, tench, golden tench and ide.
The uniquely designed and stocked waters offer an ideal venue for club matches of all sizes. Open matches are also held daily on the Covey lakes, which are considered some of the very best match waters in the country, with 173 pegs attracting the highest attendance of match anglers every week in the UK.
Overlooking the lakes is a tackle and bait shop and the terrace café, which is open all day every day serving fresh hot and cold food throughout the year.
Day Ticket Lakes:
Covey 1-6 (173 pegs) – Cheshire's number one match fishing venue, the Coveys consist of six lakes with a combined 173 pegs spread over 5 acres of scenic countryside. No pegs or rods overlap each other, making this a unique water. There is a complex pump system throughout the 6 waters to aerate and provide perfect conditions for the high stocking of large carp, F1s, ide, skimmers, barbel and chub. Depths range from 10 inches to 7ft and an average width of 11 to 14 metres makes it ideal for pole fishing.
Pine (22 pegs) – Renovated and widened up to 28 metres with depths of 5ft, Pines contains ghost carp, F1s, skimmers, commons and mirrors up to 6lb. It is ideal for pole fishing, waggler fishing and the method feeder, making it ideal for anglers who are new to the sport or who fancy a day catching a high volume of smaller fish.
Spey (22 pegs) – A popular day ticket and match water, Spey is stocked full of ide, skimmers, commons, big F1s, carp to 15lb, barbel, bream, tench, perch and roach. With depths up to 7ft and 11 to 14m wide it is perfect for pole fishing.
Marsh (22 pegs) – One of the maturest lakes with 22 pegs ideal for pole fishing with the width of 11m to 14m and 6ft at its deepest and 2ft deep across the far bank. Holds big carp up to 12lb, as well as F1s and silverfish. This sheltered lake fishes consistently well all year for day ticket anglers.
Piper & Willow (35 pegs) – Piper has been connected with Willow Lake to create a popular day ticket water with easy access to the cafe, shop and toilets. Piper has a sunken island in the middle of the lake creating a shelf 3ft deep and 6ft in the deepest water of the lake and it is 13m to the centre of the lake. Willow ranges from 7ft to 18 inches and lots of different methods and baits work well due to the varied stocking of fish, which run from ounces up to 20lb. Great for pole, waggler and tip fishing.
Ribbon (20 pegs) – One of the first waters to be created at Partridge and has been modified throughout the years to create a lake that fishes well year round for all levels of anglers. The 20 pegs average 11m wide and are disability friendly with wheelchair access and very close to the main facilities on the complex. Full of commons, mirrors, ide, F1s and tench.
Tweed (15 pegs) – A peaceful, sheltered and secluded doughnut-shaped water, heavily stocked with carp, F1s and silverfish. It is approximately 11m to the central island with depths up to 7ft. Maggots, pellets and sweetcorn work well on this lake. Car parking spaces are right next to the lake, which is located at the top end of the fishery so it is perfect, tranquil spot for those looking for a relaxing day's fishing in the Cheshire countryside.
Holbar (47 pegs) – Holbar is an exclusive 4-acre specimen water with easy access to 47 pegs. It holds the largest fish at Partridge with carp up to 26lb, plus a helathy stock of silverfish including F1s and sizeable barbel. Boilies are allowed in moderation and banded pellets with loose feed over the top, a method feeder or fishing pole and paste are all good tactics.
Gold Lake (45 pegs) – A members-only water that has been maturing for over 20 years. It was the first pond to be dug out and contains a vast range of species, including carp to 22lb, tench to 6lb, barbel to 5lb and full of silverfish including ide of good sizes. The 45 pegs offer many different environments, from open water pegs for the big carpers to peaceful and sheltered areas. Gold caters for all styles of fishing.
Species: Carp, F1s, chub, bream, roach, perch, rudd, barbel, tench, golden tench and ide.
Additional Information:
Lakeside Café serving fresh hot and cold food all day, plus inside eating area in the adjacent log cabin. Summer opening times are 7am until 5pm.
Tackle & Bait Shop providing fresh bait and major tackle brands every day to match and pleasure anglers. Open 7 days a week including bank holidays throughout the year. Winter opening times are 8am until 4.30pm. Summer opening times are 7am until 4.30pm.
Five-hour open matches on Tuesday, Thursday, Saturday and Sunday.
OAP & disabled open matches for anglers over 60 years or blue badge holders on a Monday, Wednesday and Friday.
For midweek matches there is no need to book on. For weekend open matches please call 07950 057613 to secure your place.
No night fishing
Day Ticket Prices: (2 rods)
Adults: £7 (£5 after 5pm)
OAPs & Concessions: £6 (£5 after 5pm)
Juniors: £6 (£5 after 5pm)
Holbar (Specimen lake): £10 (£15 for 3 rods)
Rules: Please consult the fishery
---
PLEASE NOTE: The above information is subject to change. Please contact the fishery for the most up to date prices, opening times, rules and other information.
Contact Details:
Address:
Partridge Lakes Fishery
Glaziers Lane
Culcheth
Warrington
WA3 4AQ
Telephone: 
Bailiff: 07950 057613
Office/Shop: 07469 981743
Website: www.partridgelakes.co.uk