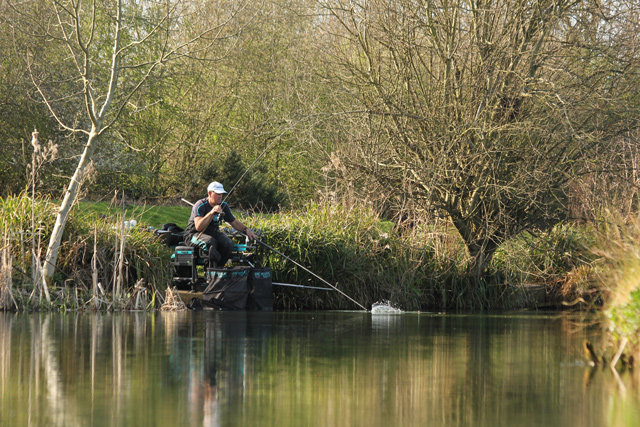 Packington Somers Coarse Fishery has been developed from former gravel 
workings to provide 13 well established, natural looking lakes and pools. Set in superb surroundings, each lake offers a diversity of sport for both pleasure and match anglers.
Open from 7am to dusk in the summer 
and daylight hours during the winter, 
the fishery is permanently manned and 
has an on-site lodge incorporating a café and tackle shop. There is ample car 
parking at several locations around the 
fishery and most pools are suitable for disabled anglers.
Day ticket and season tickets are also available.
Lakes:
Molands (60 pegs) – A large and attractive  match and pleasure lake with a central island at around 20 to 30 metres range. Heavily stocked with carp, F1 hybrids, tench, bream, roach and perch. Carp to over 22lb and match weights to over 100lb are regularly caught.
Gearys (40 pegs ) – An eight acre match and pleasure lake offering superb carp fishing with lots of double figure fish up to 20lb, bream, roach and crucians.
Little Gearys (30 pegs) – A very prolific match and pleasure lake with a central island between 16m and 25m out. It is stocked with F1 hybrids, 
carp, bream, tench and roach. Match weights to over 230lb have been 
recorded on this great pool.
Anniversaries (24 pegs) – This attractive little 1.5 acre pool has 24 match and 
pleasure pegs and offers good sport for 
F1 hybrids, roach, tench, carp and ide throughout the year.
Siblings A & B (40 pegs) – Redeveloped in 2014, these two pools are 
canal-type match lakes. Carp, F1 hybrids, skimmers, tench, ide and barbel are the main target species.
Gratuities (16 pegs) – One of the smaller match and pleasure lakes on site and stocked with carp, tench, skimmers, crucians 
and barbel.
Willow (13 pegs) – A popular small pool that offers great sport for carp 
to 18lb, F1 hybrids, skimmers, tench 
and crucians.
Crescent, Alder, Reedy Bay 
& First Bay — These four modest little pools are dotted around the site and are really popular with pleasure anglers. Each is heavily 
stocked and ideal for both beginners 
and experienced anglers.
Species: Carp, F1s, crucian carp, tench, bream, ide, roach and perch
Day Ticket Prices:
Adults: (Summer) £9; (Winter) £6
OAPs, Juniors & Concessions: (Summer) £7; (Winter) £4.50
Adult Season Permit: £170
OAPs, Juniors & Concessions Season Permit: £160

Rules: Please consult the fishery
---
PLEASE NOTE: The above information is subject to change. Please contact the fishery for the most up to date prices, opening times, rules and other information.