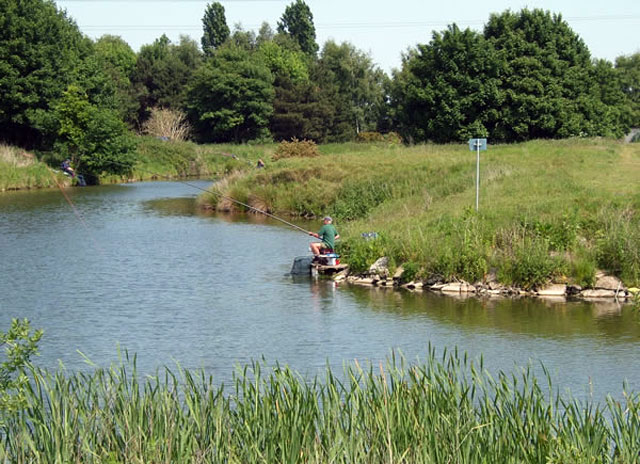 Messingham Sands is one the North's premier venues and has been established for over 30 years. It covers an extensive 66 acres, with superb fishing in beautiful surroundings.
All types of angler are catered for, from specimen, match and club anglers to pleasure anglers of all abilities. The fishery consists of a number of popular day ticket waters, several match only waters and two members-only syndicate lakes.
Although carp fishing is the biggest attraction, there is some fantastic silverfish sport also available with big shoals of quality roach and bream, plus some huge perch in many of the lakes.
The fishery is run by anglers for anglers, which is reflected in the quality of the fishing, plenty of space between pegs and sensible rules which both protect and encourage high standards throughout.
Day Ticket Lakes:
Oak Tree (50 pegs) – A popular day ticket lake that is really well stocked with a variety of species and gives excellent all year round sport. Anglers target the carp in particular during the warmer months and take really good mixed bags when temperatures fall. A bite a cast is almost guaranteed on light tackle, even in the coldest weather.
North Lake (25 pegs) – Popular for the quality of the fish with many species present to specimen sizes. A good head of carp to over 25lb and a few catfish to 40lb+, but it is the silverfish which are the jewels in the crown. Roach and rudd to 2lb, plus quality skimmers and larger bream to over 5lb, perch to over 4lb and a few chub to 6lb can be caught. Up in the water tactics with maggots or casters will produce a bite a cast all year and the mixture of species always makes for an interesting day.
South Lake (25 pegs) – A reliable lake for quality. It has 25 well spaced pegs and is well suited to the natural angler. This lake holds many specimen sized carp and catfish that respond to a wide variety of methods and baits. If you are happy catching quality roach all day then this is the place to fish, with fish over over 2lb sometimes possible.
Merry's (28 pegs) – Merry's Pool is approximately 500 yards past the main entrance of Messingham Sands and has 28 permanent pegs including two for disabled anglers. The pegs are well spaced with good access and parking behind all. It boasts the same high stock levels as the rest of the Messingham complex that makes for a fantastic days fishing. Fish include carp to over 20lb and averaging 2lb to 4lb, crucians, tench, F1s, skimmers and chub. If you like not knowing what fish you will catch next then this is the fishery for you.
Match Lakes:
Swan & New Bit (58 pegs) – Formally one eight-acre lake but converted into two to make the fishing more even. Some great carp fishing can be had on a variety of methods with the average size from 6lb to 8lb but fish to over 26lb can be expected.
Large pellets are often needed to avoid the silverfish, of which there are plenty. The silvers offer exceptional winter sport.
Islands (65 pegs) – A 12 acre lake specifically designed as a match fishery with a series of banks and islands built to create a beautiful lake crammed full of features with no two pegs alike. Holds a terrific head of carp from 1lb to 17lb, but there have also been 100lb bags of tench and skimmer nets to 120lb, roach nets to 80lb, chub nets to 140lbs. Also holds 4lb perch, roach to 2lb 14oz and plenty of crucian carp and ide. A truly diverse lake!
Tripp (36 pegs) – This four acre lake is situated off the main complex nestled in the middle of mixed woodland. This is a float only lake with carp from 1lb to 8lb and lots of quality skimmer bream and crucian carp dominating match weights. Other species include chub, roach, rudd, ide and tench.
Hollywood – (30 Pegs) The most recently completed fishery, Hollywood is situated off the main Messingham Sands complex on private land and is solely used for matches. The lake is approximately 450 metres long and 30 metres wide with fishing from the west bank only. The lake has been purpose built to allow for a wide variety of tactics. Holds lots of small carp to 1lb plus a good head of 2-5lb+ fish, plus crucians, skimmers, ide, tench, chub and F1s make.
Merry's – (see Day Ticket Lakes)
Syndicate Lakes (Members only)
Old Match Lake – This lake can produce 200 to 300lb of fish in a single session with individual Carp to 29lb and catfish to 46lb present to test the anglers' tackle!
The Little Pond – Set in a beautiful location, surrounded by trees with good access and comfortable fishing platforms. Well known for its diversity and high stock levels, it contains most species and is particularly noted for its huge population of skimmers and roach, plus catfish to over 30lb, tench, chub, perch and lots of mirrors and commons from a couple of pounds to 25lb to keep things interesting.
Species: Carp, tench, crucians, F1s, chub, ide, catfish, bream, roach, rudd and perch
Extra Information:
Pegs suitable for disabled anglers are available on North Lake and Oak Tree plus two purpose built pegs with an access ramp on Merry's Pool.
Disabled toilets are located at the main building.
Day Ticket Prices:
Adults: £6
OAPs & Concessions: £5
Match Bookings: £7.50 per peg
Rules: Please consult the fishery
---
PLEASE NOTE: The above information is subject to change. Please contact the fishery for the most up to date prices, opening times, rules and other information.
Contact Details:
Address:
Messingham Sands Fishery
Butterwick Rd
Messingham
Scunthorpe
DN17 3PN
Telephone: 01724 763647
Website: www.messinghamsands.co.uk