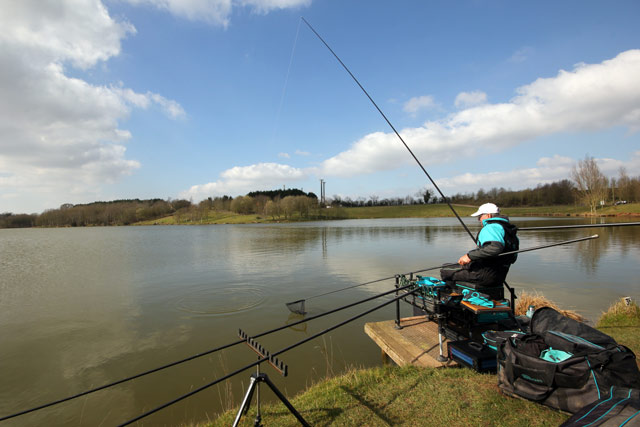 Meadowlands Fishery consists of two popular lakes on a 17-acre site that were once sand and gravel pits. Both the larger Lambsdown Lake and smaller Warren Pool contain a healthy stocking of match-sized carp, plus much bigger specimens to over 20lb. Both lakes are also well known for a huge head of silverfish with 100lb bags of bream and skimmers recorded every year, plus quality roach aplenty.
It is quite a unique place compared to your average commercial fishery, which makes it a popular destination for match anglers, clubs and pleasure anglers alike.
Lakes:
Lambsdown – The largest lake at Meadowlands with depths up to 15ft in place, plus much shallower areas at either end. The lake responds to almost every tactic imaginable, including pole, feeder and waggler approaches. The pellet waggler in the summer is a particularly good approach as well as margin fishing – but make sure you scale up the tackle as the fish run big and can sometimes be hard to stop! Head for the deeper swims in the winter for a memorable day's pole fishing for roach, bread and skimmers. Bags of over 100lb have been recorded in the cold, with pellets, maggot and casters all scoring well.
Warren – Much smaller and shallower than Lambsdown at an average of 4ft, but still full of fish, including plenty of silverfish and carp well into double figures. The method feeder works particularly well fished into open water and pole fishing is a great all-round tactic. Don't ignore the margins, as this is where fish to 20lb are regularly encountered!
Species: Carp, tench, crucians, brown goldfish, bream, roach, rudd and perch
Extra Information:
Snack-bar serving hot and cold drinks and snacks
Ladies and gents toilets
No night fishing
Day Ticket Prices:
Adult: £8 (evenings £5)
Concessions: £5 (evenings £4)

Rules: Please consult the fishery
---
PLEASE NOTE: The above information is subject to change. Please contact the fishery for the most up to date prices, opening times, rules and other information.