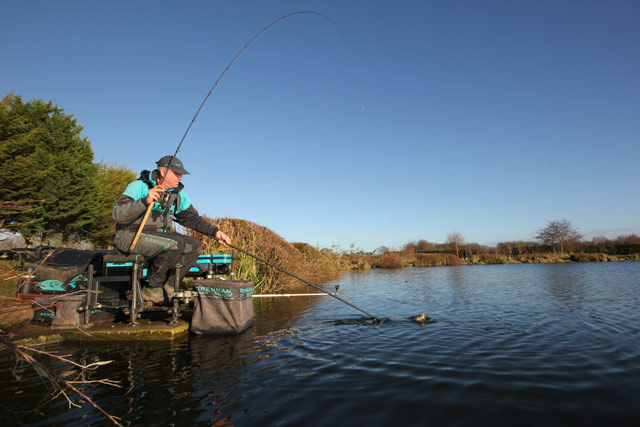 Manor Farm Leisure is set on a 200-acre farm in the beautiful village of Harvington, near Evesham in Worcestershire. It has lots to offer those who enjoy the idyllic countryside and picturesque surroundings.
There are seven prolific coarse fishing lakes plus two sections of the Warwickshire Avon, to cater for pleasure anglers, specialist anglers and match anglers alike.
There is also tackle shop, cafe, an 18-hole and a 9-hole golf coarse as well as a modern fleet of caravans, to give you the best possible experience at Manor Farm Leisure.
Lakes:
Windmill (35 pegs) – Stocked with carp from 8oz to 20lb, tench, roach, perch and bream. Best baits are pellets, maggots and corn. Depths vary from 12ft to 5ft.  There are a lot of trees around this lake providing shelter on windy days.
Boundary (44 pegs) – This lake is 3 acres in size with a shelf all the way round at approximately 5ft depth. The carp go up to 20lb in this lake but it is predominantly a mixed lake of most species. Corn and pellets work really well.  Current match record on this pool is 284lb.
Bottom (30 pegs) – This is a shallower pool with carp from 1lb to 20lb, together with roach, bream and perch. It is ideal for floating bread and dog biscuit fishing.
Middle (30 pegs) – A slightly shallower, purpose-built match pool with a shelf all the way round of 4ft with a drop off of another foot. Best baits are maggot, corn, meat and pellet. This pool has carp averaging 2lb to 4lb as well as tench and silverfish. Some huge match weights in excess of 300lb have been recorded on this lake.
Island (39 pegs) – This 3.5 acre pool is another match lake and features an island in the middle which can be reached with a feeder or bomb. Depths in this pool range from 4ft to 8ft. The carp go up to double figures but the majority of them are around the 3lb mark, plus some really large F1s and a good head of tench up to 4lb. Best baits are again maggot, corn, meat and pellet.
Ash (25 pegs) – A small match pool and ideal for clubs or small opens.  The fish range from 8oz to 20lb. There are carp, ghost carp, golden tench, golden orfe, skimmers and roach. Best baits are maggot, corn and pellet. Depths in the pool range from 4ft to 8ft.
Wood (12 pegs) – The Wood Pool is a small farm pool (12 pegs), which is heavily stocked with carp, tench, roach and perch. This pool is particularly suitable for beginners and youngsters.
River:
Warwickshire Avon (90 pegs) – Two prime stretches of the Avon with 50 double figure barbel usually banked each season, with a 15lb 12oz current best and a 6lb 1oz chub. Also contains a large head of roach, chub and perch, a few tench and even carp to 20lb. Responds equally well to the waggler, stick float, pole and feeder. Cars can be driven behind many of the pegs in good conditions.
Species: Carp, F1s, tench, bream, golden orfe, roach, perch, pike, chub and barbel
Extra Information:
Regular opens, club matches and pleasure anglers are all catered for
The Windmill Cafe offers a good breakfast and a selection of sandwiches and is open daily from 7.30am to 10am
Tackle shop on site
Lake Day Ticket Prices:
Adult: £10
Concessions: £7
Juniors: £6
Evening tickets: £5
River Day Ticket Prices:
Adults: £8
Concessions: £6
Juniors: £6
Evening tickets: £5
24 hours £10
Rules: Please consult the fishery
---
PLEASE NOTE: The above information is subject to change. Please contact the fishery for the most up to date prices, opening times, rules and other information.
Contact Details:
Address: 
Manor Farm Leisure
Anchor Lane
Harvington
Evesham
Worcestershire
WR11 8NS
Telephone: 01386 870039
Website: www.manorfarmleisure.co.uk