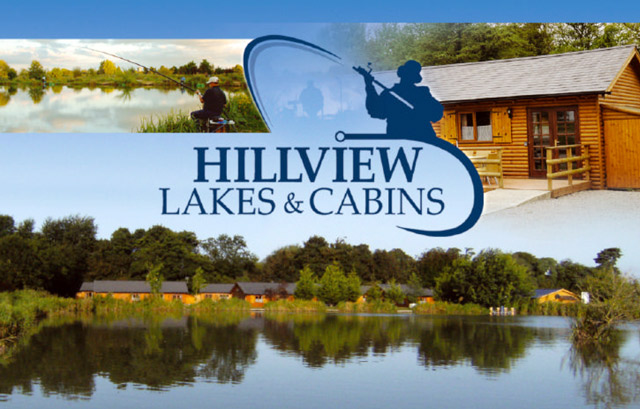 Hill View Lakes consists of six lakes on an attractive eight-acre site. Owner, Keith Hill, dug the first two large lakes, Moorhen and Heron, in 1990 and started works on Canals One and Two eight years later to cater for the increasing demand in match angling and pole fishing.
There are two large lakes, Moorhen and Heron, that are ideal for pleasure anglers and match anglers alike. Both are rectangular in shape with central islands and offer lots of choices for feeder fishing, float fishing and pole fishing.
Carp to 20lb are possible and such is the quality of fishing that there are regular match weights between 150lb to 200lb.
There are also nine well-equipped and spacious Scandinavian-style log cabins for visiting anglers to stay in. These holiday lodges are fully furnished and bed and breakfast rates are also available.
Also situated on the site is a garden nursery specialising in growing summer plants, and up to 1,200 hanging baskets per year. Keith has also developed an aquatics centre where visitors can purchase garden pond fish, including koi carp, goldfish and other ornamental varieties.
Lakes:
Heron and Moorhen – Two of the most popular lakes at Hillview. Both are filled with carp up to 20lb and there are masses of bream and roach for the silverfish enthusiasts. They also contain F1s, big ide, rudd and tench. Weights of 100lb and moer are common throughout the year and, even in the depths of winter, the sport can be surprisingly good.
The Canals – The four Canals at Hillview are full of carp, F1s, tench, roach and skimmers. Being so narrow ensures the fish are always within reach and can often lead to bites all day long. Try targeting the far bank and margins in summer and the deeper central track in the colder months.
Species: Carp, F1s, tench, bream, ide, roach and perch
Extra Information:
Many pegs on the fishery are suitable for disabled anglers, who should drive to the far end of the car park where they can leave their vehicles on the same level as the lakes.
Fishery feed pellets can be purchased on site
Three detached 6-berth cabins and six semi-detached 4-berth cabins
Fully equipped kitchens, central heating and pine-clad throughout
Detached cabins are disabled friendly
Day Ticket Prices:
Rules: Please consult the fishery
---
PLEASE NOTE: The above information is subject to change. Please contact the fishery for the most up to date prices, opening times, rules and other information.
Contact Details:
Address:
Hill View Lakes
Cherry Orchard Lane
Twyning
Tewkesbury
Gloucestershire
GL20 6JH
Telephone: 07840 579087 or 01684 296719
Website: www.hillviewlakes.biz