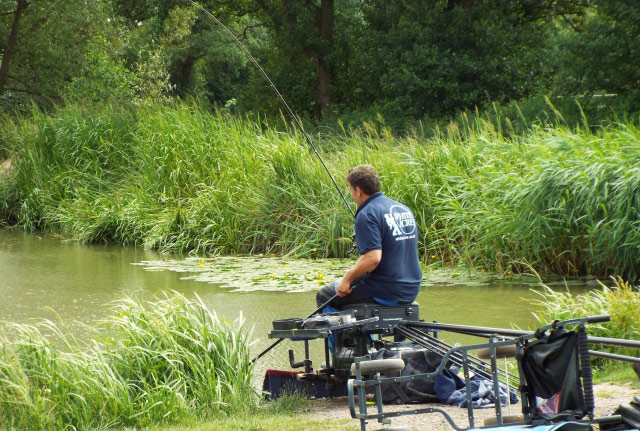 Heronbrook Fisheries is situated just off the A519 at Slindon and two miles from Eccleshall. It set in 25 acres of beautiful Staffordshire countryside and consists of six fish-filled lakes.
The lakes were all designed and built by the owner Neil Dale, with the first lake completed in 1994. The complex has since matured into one of the most popular club, match and pleasure fisheries in the Northwest and Midlands. The venue also boasts one of the largest and well-attended competition circuits in the country and Heronbrook is home to several high-profile events every year.
A number of the lakes are snake lakes which lend themselves perfectly to pole fishing. Island and Match Lake are more traditional pools with a central island and other features that can be reached with a feeder, bomb or waggler.
There is a huge head of quality F1s in all of the lakes to ensure good sport throughout the year, plus quality carp to 20lb and a big head of silverfish, including roach, bream, chub and barbel.
There is also a cafe and a small tackle shop on-site.
Lakes:
Meadow (45 pegs) – First opened in 2004, Meadow is one of the most popular and consistent pools for both club and open matches. The pool is stocked with a wide variety of species including some surprisingly large carp to 18lb. Match weights have exceeded 300lb on this lake.
Bridge (37 pegs) – A purpose built match water, opened in 2002. The 14-16m wide pool is a Z shape with an island down its full length. Contains lots of F1s, carp, barbel, chub to guarantee bites and has produced match weights well in excess of 200lb in the summer.
Canal & New Canal (47 pegs) – Opened in 1996 and one of the most famous lakes on the site, especially the noted reed-lined 'stick ups' pegs that are a magnet for carp throughout the year. This lake was later extended so it is now almost a complete circle with an average width of 14 metres and a decent 3ft of water tight across on most pegs and 6ft down the middle. Again home to a real variety of fish species and sizes. An extra arm of Canal has also been converted into its own lake, called New Canal.
Island (31 pegs) – This popular lake has recently undergone a lot of work including desilting and new platforms. This irregularly shaped pool has a central island and a narrower arm to cater for pole, waggler and feeder fishing.
Match & New Match (65 pegs) – This former specimen lake now consists of two contrasting pools. The original Match Lake is an open water pool with an island within casting distance of many swims and is home to fish in excess of 20lb, plus lots of smaller carp, F1s and silverfish. The lake reverted back in to two separate lakes in 2016 and the New Match Lake is now a popular snack-style venue containing a mixture of species.
Species: Carp, F1s, barbel, tench, bream, roach, chub and perch
Extra Information:
Breakfasts, sandwiches and snacks are available in the 120 seater cafe
Small tackle shop on site
Day Ticket Prices:
Adults: £8 (£10 for 2 rods)
Concessions: £7(£8 for 2 rods)
Rules: Please consult the fishery
---
PLEASE NOTE: The above information is subject to change. Please contact the fishery for the most up to date prices, opening times, rules and other information.
Contact Details:
Address:
Heronbrook Fisheries
Newcastle Road
Slindon
Eccleshall
Staffordshire
ST21 6LX
Telephone: 07879 441282
Website: www.heronbrookfisheries.co.uk