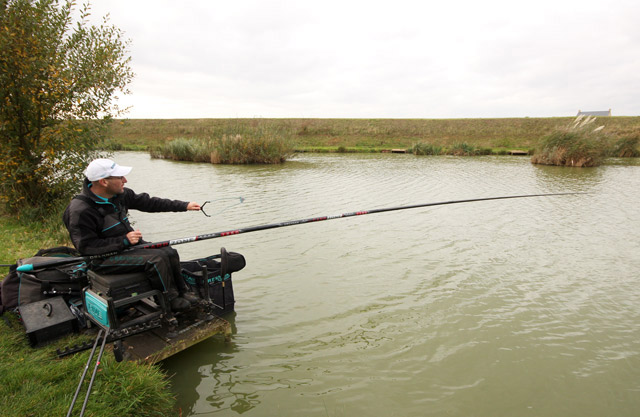 Decoy Lakes is a prolific venue and widely acclaimed as one of the UK's leading coarse fisheries. It is conveniently situated off the A605, just outside the Fenland market town of Whittlesey, and offers everything the match and pleasure angler could want.
There are a total of 274 pegs, spread across 11 lakes. Each contains a real mixture of species and sizes of fish to keep you entertained.
There are also plenty of on-site facilities to help make the experience of visiting Decoy lakes as pleasurable as possible, including a tackle and bait shop, licensed bar, club room and shower facilities.
Lakes:
Beastie Lake (31 pegs) The oldest and biggest lake of the complex with a uniform five feet depth. It's famous for it's massive weights and big fish. There are loads of carp running to 21lb and thousands of F1s. The lake also has a good head of Tench to 3lb 8oz.
Damson (26 pegs) This lake is teaming with fish from ounces up to 24lb.
Oak & Yew (30 & 30 pegs) Both Lakes are very similar to Elm and Cedar but they are slightly larger, holding 30 pegs on each. The same mix and size of fish are present as Elm and Cedar which means all four lakes can be used for one large match. With this identical nature means you never know where the winner wil come from.
Elm & Cedar (24 & 26 pegs) All of the strip lakes were dug with laser technology to create a perfectly even depth of 5 feet 6 inches. The lakes have reeds in the margins and a healthy stock of F1s, Barbel and Carp to 6lb.
Lou's (15 pegs) This is the shallowest lake at Decoy, stocked with 4.5 tons of fish, guaranteeing bites all day. There are loads of Carp, the biggest of which being a 21lb Ghostie as well as hundreds of Crucians too. This is brilliant lake when the carp refuse to feed and weights of Roach and Rudd to 40lb are possible.
Willow (35 pegs) Depths range from four to six feet. There are lots of Carp and Ghosties that run to 8lb. Willows also has a large head of F1s and a lot of hard fighting Barbel to 4lb. It's a really well established, picturesque lake with reed lined margins and overhanging trees and bushes.
Horseshoe (20 pegs) This lake holds some mammoth Carp up to 20lb. There are also plenty of smaller Carp that allow you to build a big weight easily. Also expect a few Tench and a good head of F1s. The lake has recently been re-landscaped and has a depth of around 5 feet.
Four Islands (10 pegs) A small club water. This lake guarantees plenty of bites thanks to a heavily stocking of F1s, Tench, Roach and some normal Carp. The lake is up to six feet deep but shallows up towards the lakes 'four islands'. The lillies make this a very pleasant lake to fish.
Six Islands (25 pegs) As it's name suggests this lake has six islands hosting brilliant fish and features. Depths vary from five feet in open water to just a foot close to the islands. There are more doubles in this lake than any other at the fishery with the average stamp of fish getting close to 10lb. There aren't many F1s in here but there is a healthy head of Tench.
Stock Pond (0 pegs) This lake is full of fish but unfortunately there are no pegs and you are not allowed to fish it!
Species: Carp, barbel, tench, bream, ide, roach, rudd and perch
Extra Information:
On-site tackle and bait shop
Licensed club room, bar and cafeteria
Male and female toilets
Shower facilities
There is plenty of parking and parking near or behind pegs for less abled anglers
Day Ticket Prices:
Adult: £7
Children: £4 (Must be accompanied by an adult)
Opening Times: 9am to 6pm

Rules: Please consult the fishery
---
PLEASE NOTE: The information above is subject to change. Please contact the fishery for the most up to date prices, rules and other information.
Contact Details:
Address:
Decoy Lakes
351 Drybread Road
Whittlesey
Peterborough
Cambs
PE7 2AD
Telephone: 01733 202230
Website: www.decoylakes.co.uk